*Descrição em Português no final da pagina!
The Arena is a project of Illustration and Concept Art that seeks to provide a direct involvement between 2 Minds Studio and your audience on the social network
Facebook.
The purpose of the challenge is to make the participants develop interesting and creative heroes using only a short text that explains its history and characteristics. The characters are sent to the 2Minds and undergo a selection process in which only eight are chosen.
The idea of developing the characters in the text is to bring an egalitarian opportunity for all participants, since it does not involve artistic skills but their creativity and originality only. Anyone can participate, regardless of age or area of expertise. There are no restrictions regarding the history and characteristics of these heroes. Extremely violent or pornographic content is not accepted, due to the constraints of Facebook and the range of the public age.
The characters are selected by 2Minds, illustrated and exposed to the public. Are then randomly assigned in pairs to duel, the loser is eliminated from the Arena. The selection of the winner is made by the public, who vote on dueling image made available on the social network. The creator of the character who "survive" to all the fights is devoted winner and receives an illustration printed on A2 of his hero in a victory pose, produced especially for the event by the end. In addition, they also receive a set of cards made with the characters of the Arena - this will be given to first, second and third place. 
The project provides participation and involvement of the public in all its stages, without any charge or commercial involvement in the production and dissemination of images of the characters. 
As a result, in two months the 2Minds your base of followers increased by 30%, reaching more than six thousand followers, only by social involvement that the project generated. We also increased our relationship with the public, obtaining data about what they like or not to receive in your news feed everyday and what they are expecting from an illustration studio like ours. 
Our team was invited to participate in podcasts, events, interviews and provide up to develop a game based on the content generated through this experience. Due to the success and involved we are considering doing a second edition! 
Where the project occurred:
on.fb.me/WqfFrA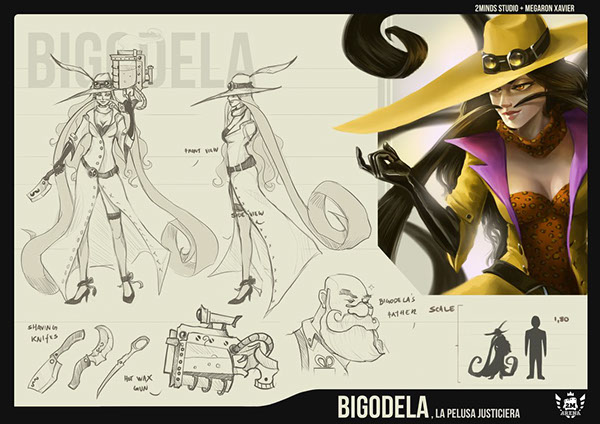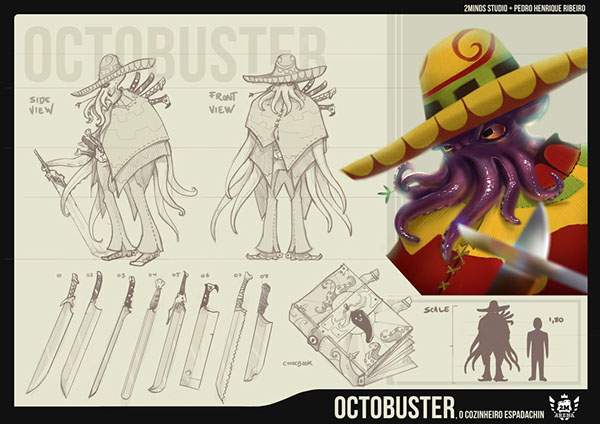 A Arena é um projeto de Ilustração e Concept Art que busca proporcionar um envolvimento direto entre o 2 Minds Studio e seu público na rede social
Facebook
.
A proposta do desafio é fazer com que os participantes desenvolvam heróis interessantes e criativos utilizando apenas um breve texto, que expõe sua história e suas características. Os personagens são enviados para o 2Minds e passam por um processo de seleção em que apenas oito são escolhidos.
A idéia de desenvolver os personagens em texto é trazer uma oportunidade igualitaria a todos os participantes, já que não envolve as habilidades artisticas e sim a sua criatividade e originalidade. Qualquer pessoa pode participar, independente da idade ou área de atuação. Não existem restrições com relação a história ou características desses heróis. 
Conteúdo extremamente violento ou pornográfico não é aceito, devido às restrições impostas pelo Facebook e pela abrangência do público.
Os personagens selecionados são Ilustrados pelo 2Minds e expostos ao público. Em seguida são divididos aleatoriamente em pares para duelar, o perdedor é eliminado da Arena. A escolha do vencedor é feita pelo próprio público, que vota na imagem de duelo disponibilizada na rede social. O criador do personagem que ?sobreviver? à todas as lutas é consagrado ganhador e recebe uma ilustração impressa em A2 do seu herói em uma pose de vitória, produzida especialmente para o final do evento pelo 2Mind e seu concept board impresso. Além disso, também receberá um conjunto de cartas feitos com os personagens da Arena - este vai ser entregue ao primeiro, segundo e terceiro lugar.
O projeto proporciona participação e envolvimento do público em todas as suas etapas, sem nenhum tipo de cobrança ou envolvimento comercial na produção e divulgação das imagens dos personagens.
Como resultado, em dois meses o 2Minds aumentou sua base de seguidores em 30%, chegando a mais de seis mil seguidores, somente pelo envolvimento social que o projeto gerou. Ampliamos também nossa relação com o público, obtendo dados sobre o que gostam ou não de receber em seu feed de notícias diário e o que esperam de um estúdio de ilustração como o nosso.
Nossa equipe foi convidada a participar de podcasts, eventos, prestar entrevistas e até para desenvolver um jogo com base no conteúdo gerado através dessa expêriencia. Devido ao sucesso surpreendente e a pedidos de muitos envolvidos estamos considerando fazer uma segunda edição do evento.
Aonde o projeto ocorreu:
on.fb.me/WqfFrA