Sjøhus Unstad is concept of a hotel offering unique, "lofotian" experience to the guests, a hotel that combines roughness and certain industriality together with comfort and good design (primarily). Secondarily, it is also a shipyard and semi-public pier serving the hotel-owned ship and boat fleet designated to supply the hotel and to serve the guests as transportation and recreational vessels. Tertiary, I'm adding additional fucntions connected with the hotel and the site: small grocery store with fresh seafood for the hotel guests, tourists passing by and locals, hotel-bound restaurant / cafeteria, bar and hotel administrator's house. Thanks to the large public lobby, the place could also work as a meeting place for locals (function related to the restaurant and bar).
Conceptual basis, besides solving the functional and technical challenges, is based on local context. I will define it in these headwords:
Linearity, light and shadow, scale of a human vs. scale of a ship, modularity, being natural part of the environment, low emphasis on private space due to sparce population.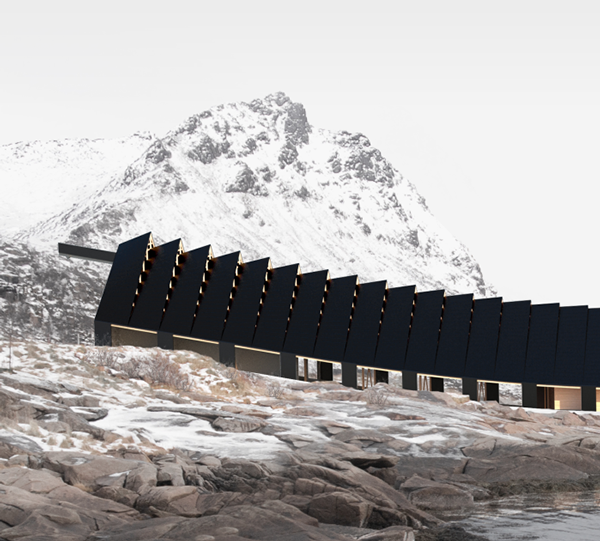 ↑


Northern part of the building volume follows the rising terrain
.
Glazed gaps between the roof "scales" brings the dayling inside the central corridor and lobby.
Site location:
 Mærvoll Bay, Vestvågøy island, Lofoten. Although lying within the Arctic Circle, due to the Gulf Stream, winters are mild and summers pleasant.
Conceptual basis: graphical depiction of the architectural form genesis.
Exterior views: seahouse from the side and Northern entrance
Longitudinal section (main volume)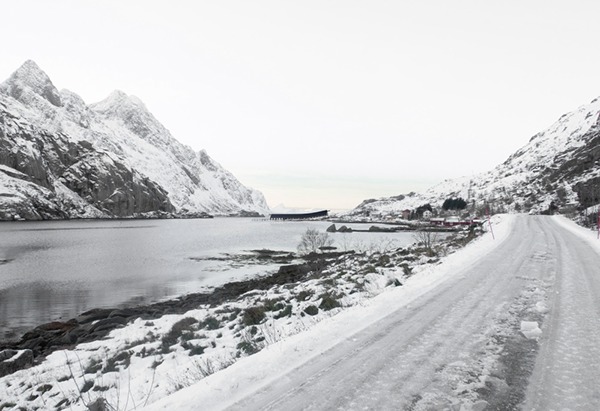 Volume is designed, among other things, in order to create new local landmark
Interiors: longitudinal views
Isometry of the architectural volume, interiors.
1 - "The Bridge": 3-storey part with the hotel facilities and owner's house
2 - Main Lobby: main entrance, reception and cafeteria
3 - Hotel Rooms: together with laundry room, WC and public kitchen
4 - Southern Lobby: relaxation area, warehouse and pier entrance
Roof truss detail with the central ridge beam being well visible.
Main lobby visualizations: cafeteria and reception, stairway heading to the grocery store and Northern entrance
Hotel rooms: interior and exterior view. Heavy wind shutters protect not only from extreme local winds, but also darken the room during arctic days (midnight sun).
Part of the architectural design is also appropriate and corresponding visual identity, based mainly on specific typeface. This custom-made typeface is designed to be used in wayfinding and navigation system for both the interior and exterior of the seahouse, as well as for various hotel-related printed application headlines, poster typesetting etc.
↑
Another feature of the visual identity is

bevelled lower edge of some stationary, visualy quoting the building volume itself.
You can view the full project here!
-
Architectural concept, design, identity, typeface by
Bc. Jan Vranovský
|
FRVR
Concept consultations provided by 
Prof. Ing. arch. Zdeněk Fránek & Ing. arch. Radek Suchánek

,

Phd

.
Structural analysis consultations provided by
Ing. Jan Suchánek
Additional help with visualizations by 
Ing. arch. Svetlana Kozhenova
Photography by
 Jan Vranovský
Created as a Bachelor thesis at Faculuty of Arts and Architecture, Technical University in Liberec
,
Czech Republic
Thanks for viewing & reading!