"Nella grotta" ("In the grotto") is my first illustrated book.
Loosely based upon the lost, same-titled story by the austrian psychiatrist Wenzel Aar, Nella grotta is composed by twelve short episodies in which twelve black and white linocuts illustrate the gloomy story of a young boy who enters the grotto "to stay there forever". There, in a timeless atmosphere, "in absolute silence and darkness", the boy explores an (inner?) world of disturbing events and characters.
The tale, of 28 pages, is written in Italian and comes along with a same-page english translation. The book is professionally printed on offset premium paper, and each copy of the limited, 90 copies edition is bound personally by me using a sewing-machine and discretely numbered on the last page. The silkscreen cover is hand-glued.
NELLA GROTTA 
by Vacon Sartirani
based on a tale by Wenzel Aar
with illustrations by Vacon Sartirani
english version's revision by Melanie Shann

15 x 22 cm
28 pages
Text in italian and english
Silkscreen cover
Hand-binding
90 numbered copies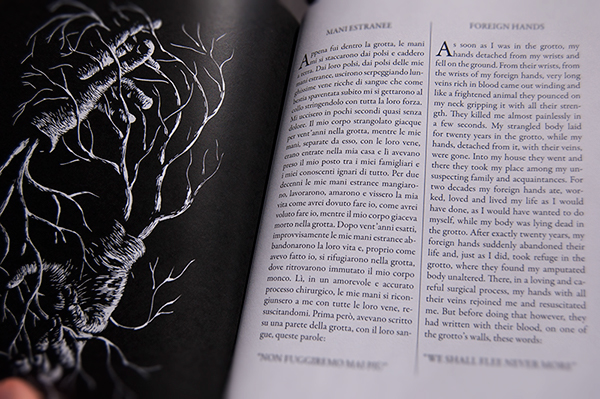 Following are the twelve linocut illustrations. The captions are brief extracts from the actual english text.