iClick CEO Jai Pandya wanted to work closely with me on defining the UX/UI for his startup based out of Bangalore for learning photography over web/mobile. With a high profile team of photographers - Anushka Menon, Ashima Narain, Boman Irani, Hari Menon, Sudhir Shivaram, Waseem Khan to name a few - backing the concept, we took off in defining an experience which is usable, non intrusive, high-def content and extremely classy as the team itself.
An onboarding screen to guide a new user on 5 things that you do with iClick and help them navigate around with ease.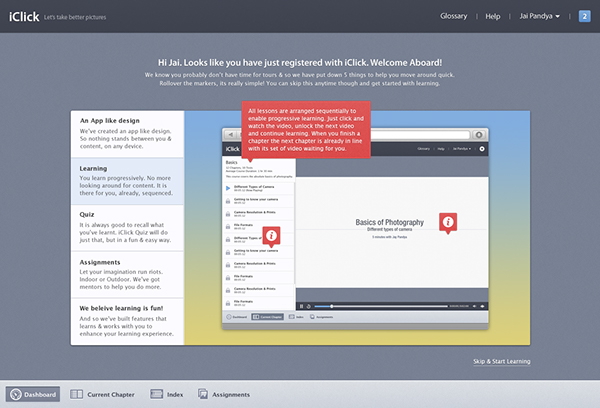 Dashboard
The idea was to present the user with a dashboard showing various stats about the engagement, assignments, levels etc in clean, fresh, a tad colorful with subtle iconography and text. 
Users can watch videos, take quiz, unlock and navigate through difference chapters.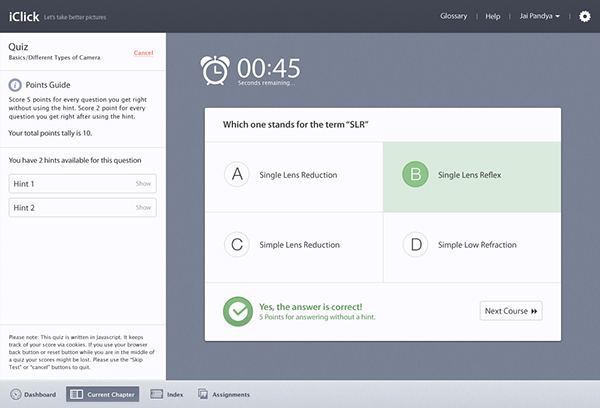 Index
Users can always refer back to an index where they can see, measure progress, interact with experts directly. 
Genre
Users who have finished with Basics of photography are led into an expert stage, where the user first has to choose an area of focus for the next 3 months. All content from here on is tailored based on the genre the users selects at this step. Thats what makes iClick special.
To effect a change you ought to measure!
Jai and I were very convinced that not just our users but even our mentors should have powerful tools to engage and interact with their teams. So, we decided to put a lot of emphasis on mentor's dashboard to clearly measure, engage and respond to user's request and guide them through the learning process.
Color sheet & Iconography