Form Language
The forms of the product, which were styled in reference to plasticsupermarket bags, evoke very familiar notions of a carry bag to the user.
Thishelps communicate the products primary function when being used as a hand heldcontainer.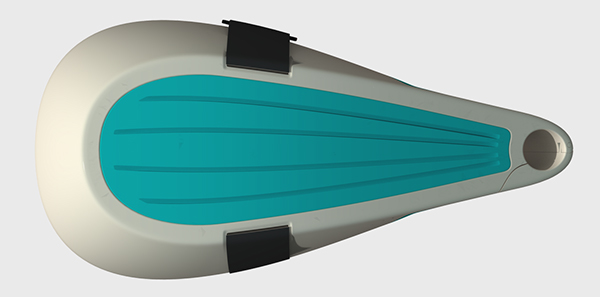 Strap function
The strap is threaded from the inside to the outside of the container and simultaneously secures the cargo inside whilst holding down the lid on the outside. This can be achieved in four easy steps.


Clipping mechanism
The clip and locator function which is built into the handle allowsit to be quickly and easily fastened and removed from the bicycle, while thelocator remains attached to the seat post for convenient
re-attachment in thefuture. 


The locator always remains attached to the bicycle andhelps to prevent side-to-side swing of the container during the ride whilstalso helping to counteract the downwards force applied when the container isloaded with cargo.

The following series of portraits explores the ways and setting in which this product could be used and the people which would use it 
Detailed explanation
Belowfour° is one of the few products in a heavily male dominated industry, which is equally suited to both the male and female riders through its attention to colour customization.
This could only be achieved through strong a focus throughout the design process on the individual and not a 'target group' as a whole, this helps strengthen the emotional bond between product and user.

Being the first refrigerated and insulated product available on the bicycle market, belowfour° aims to meet the needs of many Australian riders who take the time to ride for both their health and the environments.
Whether it's a social weekend day trip with their friends or the daily commute to and from work, it allows the rider to transport their food and refreshments without having to worry about them being damaged by the high temperatures of the Australian summer.
Materials
Using recycled polypropylene that is reinforced with Flax fibres allows the material to be durable with a higher tensile strength and have a long lasting product life; whilst at the same time degrading at a much quicker rate at the end of the products life cycle.
This material also allows for the utilization of current manufacturing methods including injection moulding.

Thank you for viewing! 
you can also see this product as an entry in the James Dyson Australian Design Awards: