ABOUT


This project is a "cultural mission" of a performance which evokes that playful and experimental scenic style which was created in the school of Bauhaus in the 1920's. Moving paintings, vibrant compositions and mechanical ballet were made and finally completed with the stylized moves of the dancers. Typography appeared as an important compositional element of the performance which was based on the synthesis of light, shapes, moves and sounds.
Director: Kristóf Weber
Design: Békés Rozi
Choreographer: Góbi Rita
Music: Weber Kristóf
Contributor: Erdély Dániel
I wanted to create something fresh and new but I had to keep in mind the characteristic style of Bauhause. I didn't want to use Bauhause font, so I decided to use the three essential shapes (triangle, square and circle). Basicly these three shapes have three direct, clean colors: circle has blue, triangle has yellow and square has red. I swapped the colors with each other because I wanted to emphasize that this brand belongs to the 21. century, so this new point of view is my way of thinking about this strong visual wave (actually I prefer the red triangle to the yellow one).

DETAILS


I planned a logo, posters, a ticket, a web page, a brochure and a souvenir for this performance.
The whole project is bilingual - English and Hungarian.


The logo ↓

is a symbolic theatre frame with subtitle. The Hungarian and English versions have common roots but the difference between the numbers of the letters makes a little bit diverse appearances of them. This element is important on the webpage.
The webpage ↓

is bilingual as well. The colors of the page change if you push one of the language buttons.


The ticket

has an envelope which is a pop-up game with those three colorful elements.


The souvenir

includes three fridge magnets in a box and a piece of paper which is a symbolic theatre frame, so when you put these three magnets to the fridge you can play abstract theatre at home as well.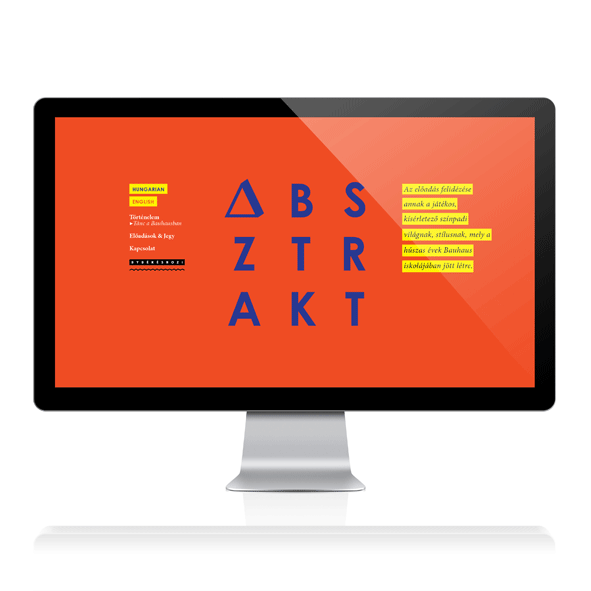 POSTERS↓
I wanted to impersonate the three basic shapes - this was the main idea of the posters.






Kondor Krisztina

-

makeup