Now that I'm graduating and entering the professional design world, I needed to create a personal identity, portfolio and promotional materials. The logo I developed from my initials is, I hope, subtle and representative of me – a traditional character with a twist. A ligature, being a special character, also hints at my typographic interest. I stuck to a strict black and white palette so my brand wouldn't detract viewers from looking at what's important: the work!
With the brand applications, I tried to evoke my interests – typography, print, and considered design. To this end, I used a wordsearch puzzle, a hidden message, and several print processes & finishes. Letterpress, risograph, laser printing, dimensional varnishes, inkjet, folding, wax seals, custom envelopes, CD labels and everything from 810 gsm triplex board to 115 gsm recycled Cyclus stock is used to reinforce this message.
Needless to say, I'm currently looking for a job!
If you like my work and want to get in touch, please e-mail me at

hello@jamesmcnaught.co.uk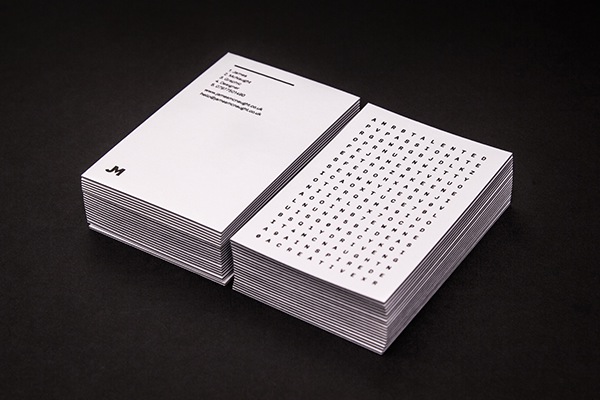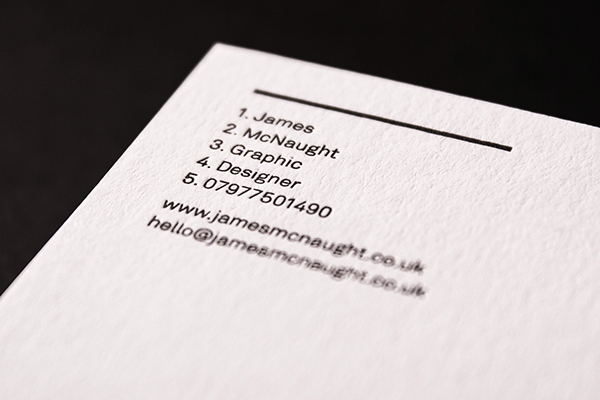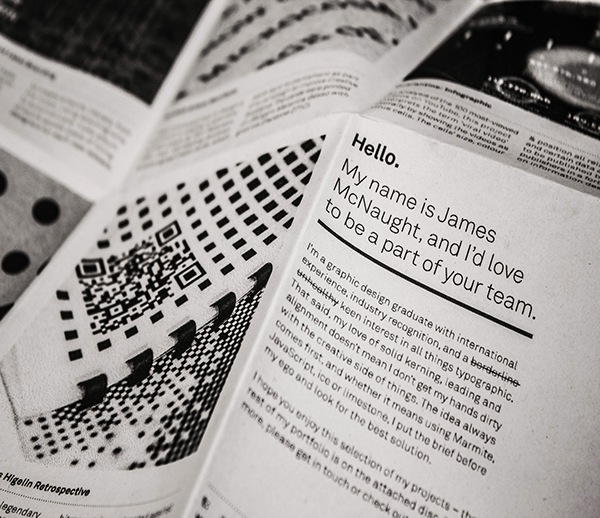 Specifications



—



Business Cards:


Black ink both sides
810GSM triplex board: GFSmith White Frost/Ebony Black Colorplan
Printed by
Glasgow Press
Mini Portfolios:


Risograph (Black Double Sided)
115GSM Recycled Matt Cyclus Stock
120GSM Matt Cartridge Paper & 300GSM Black Card



Envelopes:


Digitally Printed w/ dimensional varnish
150GSM Matt Art Paper