"Mobility Concept" explores the design of a small car with hybrid drive, in which two collapsible bicycles with electric pedal assistance (pedelecs) can be stowed under the boot of the car. The batteries of the bikes can be charged directly in the car or at a socket outlet. The car and the pedelecs have a common design line reflecting that they are hybrids. The objective with the integrated pedelecs in the car, is to offer an increased individual mobility, allowing to better adapt to the traffic situation in the city or countryside. Commuters can park their car at the outskirts of the city and continue the last kilometers to work with the pedelec, thus avoiding the rush hour traffic and exhausting search for a parking space in the city centre. On weekend city excursions the pedelecs can be used instead of public transport, for a more individual and enjoyable exploration of the city.The car is designed as a two-seater, with the target to be only half a metre longer than a ´Smart´, yet allowing to store two collapsable pedelecs under the boot, without any loss of storage space for luggage or everyday shopping. The car is powered by a hybrid engine:  at higher speeds, the electric engine turns off and the combustion engine turns on. This way it is possible to do entirely without gasoline or diesel in the city and to solely use electric power for driving. Mobility Concept in its formal design underlines the interaction of the two technologies of the hybrid to the observer: the car´s front and headlights lighting change shape and colour, depending on whether the car is being powered by the electric or the combustion engine. The formal design of the frame and wheels of the Pedelecs is matched with the body and wheel rims of the car.
Emin Ayaz | Borgar Niggeler
Mail:
Emin Ayaz (info@eminayaz.com / eminayaz@hotmail.de ) 
Borgar Niggeler (bo_niggeler@bluemail.ch)
MobilityConcept is also a hybrid car with two modes - electric mode and the petrol mode. The feature of this hybrid is, that the mode is from the apperance visible, by showing up blue light for the electic mode and red ligts for the petrol mode. The mode depends to the speed of the car.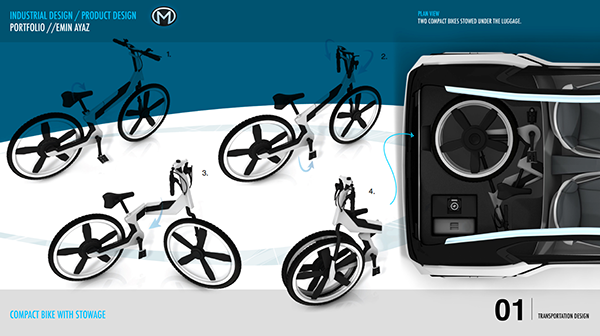 Designer:
Emin Ayaz (info@eminayaz.com / eminayaz@hotmail.de ) 
Borgar Niggeler (bo_niggeler@bluemail.ch)
 
is a 
design concept of a compact car with two compressible bikes (pedelecs), which can be stowed under the luggage. The idea is to increase the flexibility of mobility by traveling, and this with a compact car. To have two bikes in your luggage means, to be ready for spontaneous trips. If you like a place or a city, etc.  just park your car and start the tour!