•    •    •

Charity Ball Event
I created a Charity Ball event and the materials that would go with it. My goal was to re-purpose materials as much as possible, so I created an 18 x 24 inch poster that folds into a folder that holds the rest of the information for the event. This not only adds functionality, but it gets supporters engaged in helping promote the event when they hang the poster in their community. Additionally, I created a hands on experience with a 3-dimensional donation box for supporters to assemble and set out to collect coins as a reminder of the upcoming event.

•    •    •

In researching organizations, it came to my attention that many ministries lack adequate training for volunteers. I created a multifunctional training kit to be given to field volunteers. The kit contains useful products for the field as well as a field manual. Additionally, the box folds open to be a poster in the native language of the country the volunteers are in. This cuts the organization's shipping costs down when their volunteers take the posters over and hang them up directly in the communities they are working in.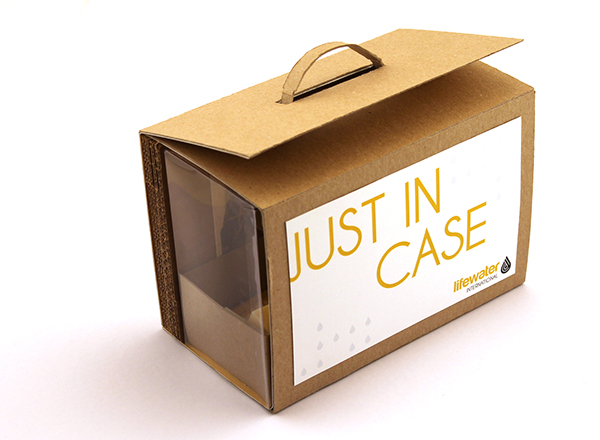 •    •    •

Thank You Gift
This piece was created as a gift to send high donors as a thank you for their contribution to Lifewater. Inside, the gift contains items that all use water to help the donor continually remember what their donation is supporting. This keeps them actively engaged in the work of the ministry.
•    •    •

I created a tangible and concise look at what Lifewater International is doing in countries around the world. This little packet contains two books, one that discuss the crisis that Lifewater is working to address and another that then offers Lifewater's solution to the problem. They utilize infographics to convey factual information in a more inviting way.
Product photography was combined with the actual print materials and 3-dimensional pieces in the gallery. The hanging method was chosen with the intent of repeating visual ideas from within the work.
Photography by David Uttley