FF Amman Refreshing New Type System
A typeface for a Middle-Eastern capital (and everywhere else in the world).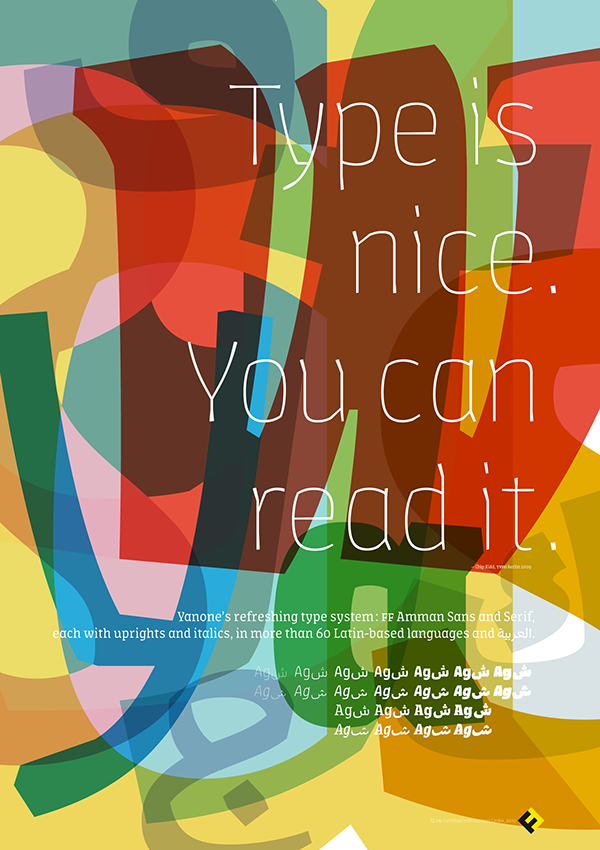 FF Amman
(
FF Amman Sans
&
FF Amman Serif
) is one of the largest bilingual families ever made, one of the few designed bilingually from scratch and the first containing true Arabic italics. The project began as
Yanone
s graduation project at Bauhaus University in Weimar, Germany. In late 2008, Yanone set out to Amman, the capital of Jordan, to re-brand the municipality in preparation of its centennial celebrations. The typeface with several typographic novelties has been used widely for all kinds of municipal services in Amman. The family consists of seven sans and four serif weights, each with their true italics and both Latin and Arabic character sets.
(
Download PDF Yanone on FF Amman
)
If youre looking for a slick everybodys darling type face then please move along, there might be nothing to see here.
FF Amman
is Yanones spanking new biscriptual super family with attitude. Sharp corners, edges, squarish design, yet ledgible. It takes pride in its edginess, just like the people of Amman are finally starting to do. Jordans capital Amman is the root of this Arabic/Latin family of twenty two weights in Sans and Serif. It was created for the rebranding of Ammans municipality on occasion of its centennial celebrations 2009. It contains the first ever real digital Arabic italic and other novelties like fractions and table figures for Arabic type setting.
Where ever you want to draw attention to a certain cultural or international character, the FF Amman family will work brilliantly, even without the Arabic. FontShop also sells it containing the Latin script only.