Range: Plain, Self Raising Wholemeal & Country Grain (Bread)

When researching into typical flour packaging, I came across a lot of paper packaging. I found that this was cheapily produced however not very reliable to store the flour as once it's been opened and used the Paper packaging tends to tear. As customers use the product more they try to fold the top part of the packaging up or even squash the paper down thinking no air can get in. However when researching into packaging and flour, I picked up on ways to buy and store flour. 
Customers should look for tightly sealed bags or boxes. Flour in torn packages or in open bins are exposed to air and to insect contamination. From this I've decided to create my packaging in glass bottles. With an air tight lid, it would be impossible for any air to come in and ruin the flour. My aim is to make these glass bottles look very luxurious and expensive, as I have never come across glass bottles containing flour.
Although some people may never purchase top branded flour and stick to the standard brands such as Be-ro and Allisons, my aim is to make these look visually appealing to the customer so they are 
influenced to purchase top tier luxury flour. I want to make the artwork behind this range very simple and elegant to bring out a luxurious finish when the printing is complete on the bottles. 
My development shows a range of different ideas and logo's for the packaging. I would like the glass bottles to look similar to the ones in the examples, and the type to be printed out on to black and gold vinyl and stuck on to the glass.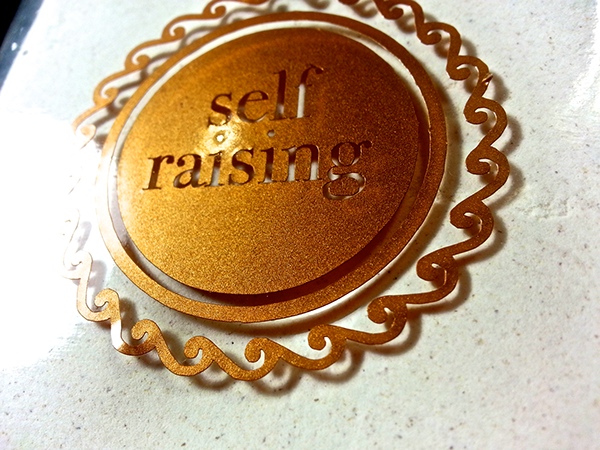 After days of mastering and working around the vinyl cutting machine, I finally managed to cut out my lettering for the bottle in black. Gold vinyl was used for the round cirle to identify the flour. The vinyl finish came out nicely and made the product look simple, unique and very luxurious. I added some gold ribbon around each bottle to give it more of a luxury feel and make it part of an actual range available at Marks & Spencer.