Slot

Couch
"Slot" is an upholstered sofa with modern minimalist design and clever storage solutions. Simple and elegant, "Slot" is interesting to be observed from every stand point, because its creative design captivates you due to its appealing color combination, seamless blend of materials and unexpected curves.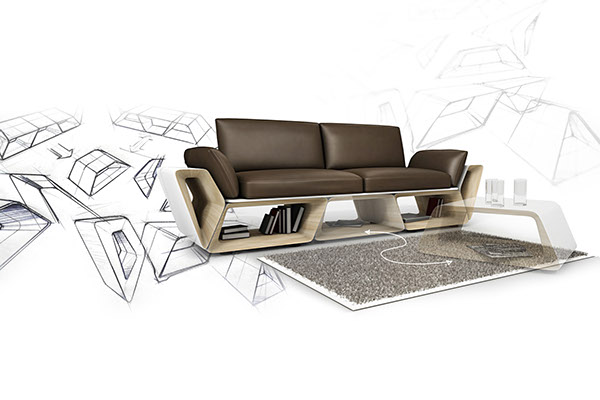 Model
Vizualization:
Black Leather
Whether we have a big house with plenty of space available or we live in a small apartment, nowadays many of us are looking for all kind of smart solutions in terms of furniture design, products that are multifunctional and space-saving, incorporate eco-friendly materials or display innovative designs. Functionality and aesthetics of a furniture item go hand in hand, being two aspects very important these days in interior design industry, and our expectations are different now than ten years ago for example.
Its originality comes from the empty surfaces that it has, which turn to be a wonderful storage for various stuff like laptop, books, magazines, newspapers, but also a retractable coffee table when you need it. Just pull out the middle space and you'll have an appealing and modern coffee table right in front of you. In this way, you don't have to purchase such a table anymore and have plenty of space for other things in your living room as well. Besides the comfort it provides, this sofa design makes a great focal point for any living area.
Ball bearings for a comfortable movement.