Second Prize at the second editiion of the international design contest "Design Mediterraneo"
Presented by the cultural association and on-line magazine PAD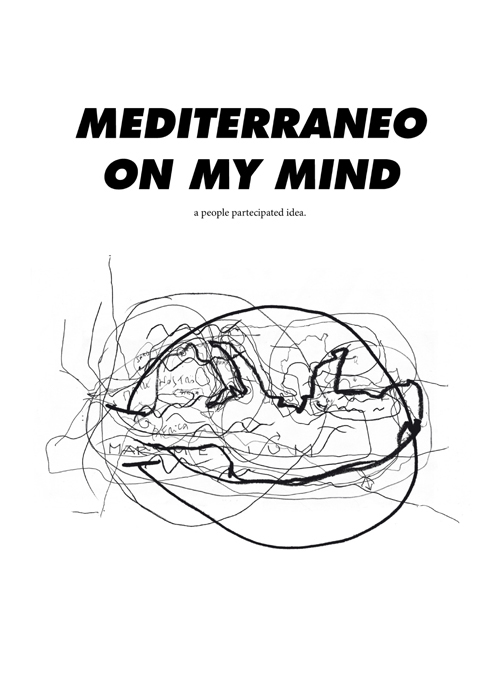 The borders of the Mediterranean sea cannot be easily defined: they're shaped by the life of nature, by the extension of the olive trees?, by the sweet taste of the figs that wish to grow on an environment that give  them life.
The borders of the Mediterranean sea can be found in peoples' minds and culture, in the historical awareness of the role that every single people that has lived on its coasts has had.
There are no Mediterranean borders.
We are an extension of those borders.
Our minds carry on their own vision of the border, depending on our historical and perceptive memory.

This work is the graphic expression of this concept.
A popular brain-storming process intending to transmit and transform our perception of the border into a graphic sign.

Everybody who took part into this project gifted us their own sign, their own point of view.
The poster shows the overlap of all these signs, attempting to define and, at the same time, not to define the Mediterranean borders.
The chaotic overlap of signs intends to create, inside us, a perceptive chaos made of visions and differences among ideas, peoples, cultures, interpretations, among a single massive population that creates the actual border inside this "mare nostrum".

The medium we used is the poster.
The choice of the expressive method besides the font and the whole composition was made with a disenchanting aim.
We eliminated the poetry breaking away from the tradition, using a composition that is screeching, impudent, not harmonious and not well balanced with the graphic style of the drawing.
The advertising tone of "Mediterraneo on my mind"  wants to deseacrate the romantic vision that we often give to the Mediterranean sea.