04/10/2013
For a design challenge posted on MindSumo,
John Deere was looking for a user-friendly blade system for its line of lawn mowers--that is a system that makes removing and attaching mower blades easier and more time efficient. Showcased below is our process in initiating an idea and refining it. The final submitted design placed us as one of the top 5 winners, with a reward of $150.
Team Members: Gordon Yang, Grant Buster, Alex Voet, Sam Kirschner (
Design Engineering Collaborative)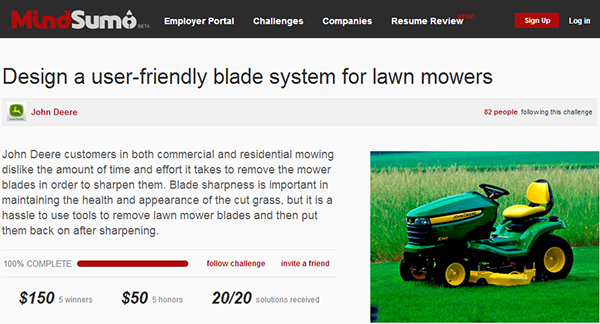 Our Original Idea
To secure two blades using a hook and eye type locking system.  This ensures easy installation without becoming too secure to remove. 
The rotational acceleration of the blades would provide more than enough force to keep them secure on the "hooks".
The blades were then connected using a slot and springs to provide further security in normal motion such as transportation. 
Removal of the blades would include:
1.Pinching the blades together at point A to align the holes at the point of attachment B.
2.Removing the blades in the C direction.
3.No tools needed!
The attachment region would have to be encased in some sort of shell to prevent grass clippings from getting into the holes, slots and springs.  The encasement was omitted in the renderings in order to better show the attachment method.