Like most partnerships, Team Biscuit Films is a partnership between two people with two different skillsets. 

Patrick Phillips is the filmmaker, the videographer, the camera expert, whereas John D. Hay is the structure behind the brand—the dirty work, the editing, the direction.

To represent the uniqueness of each individual, we created the tagline, "FILM. MAKING.," realizing each persons' contribution is necessary for the company to thrive. 

Pat represents "FILM.", while Johnny represents "MAKING."

Together, they form TEAM BISCUIT.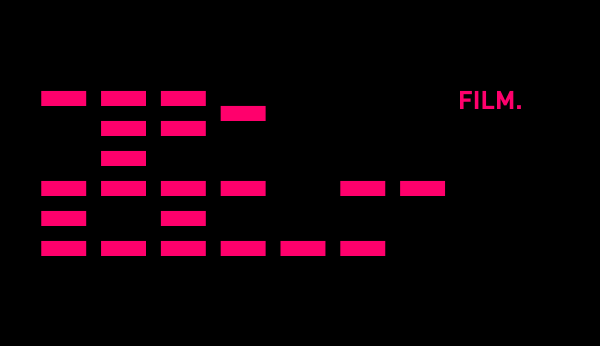 Δ Logotype:
Since motion is what Team Biscuit is based on, it seems fitting to animate the logo into 2 parts:

FILM. is represented by horizontal bars and represents Pat.
MAKING. is represented by vertical bars and represents John.

Alone, they represent the skills of each partner...
Combined, they create TEAM BISCUIT.
Δ Shorthand Logo:
In certain instances, a shorthand logo was devised to work in smaller spaces.
Δ Color Application:
The digital realm is where Team Biscuit thrives. We chose to represent this by color. In print applications, the branding remains neutral. On the web, it comes to life using a modified RGB palette and .gif animations.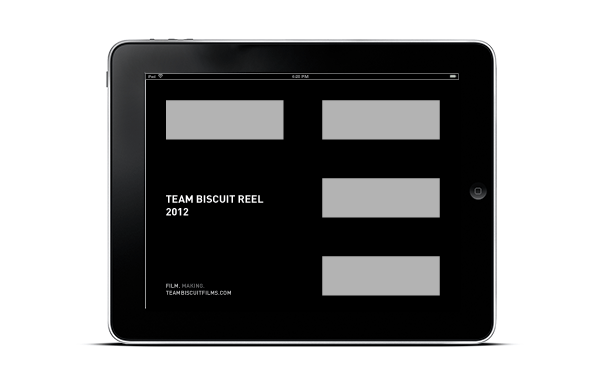 Δ Video Introduction:
Shown is the animation at the beginning Team Biscuits' videos. It is a modern take on traditional video countdowns and vital to their branding.
Δ Business Card:
Printed on vellum (semi-transparent paper), each card works together to complete each other. Separate, they represent the partners' skill, together, they make up Team Biscuit.
Δ Acrylic Slide:
Made for quick ways to brand while shooting, a piece of acrylic made as a window to look through, while retaining the brand image. 

This is a great way for them to generate branded media for later use on the web, and only takes a few seconds to create.
Δ Clapper: 
The branding was also applied to a clapper. Used for shooting, and the logo can be abstracted as a functional space for vital information. 

Made on acrylic, the two parts of the logo layer ontop of each other to be legible when read, head on.
Δ Flags: 
To be used when shooting on location.
Δ Stencil: 
For cost effective branding. Stencils were made to be sprayed on surfaces, creating a cheap alternative to printing.
Δ Pelican Case: 
For transporting their equipment, Pelican cases were stenciled.
Δ USB Drive: 
Branded acrylic USB to be used for transferring files to clients.