22Fresh is clothing with a non-traditional edge that doesn't take itself too seriously. Its exclusive brand positioning wedges itself unapologetically between sports and lifestyle.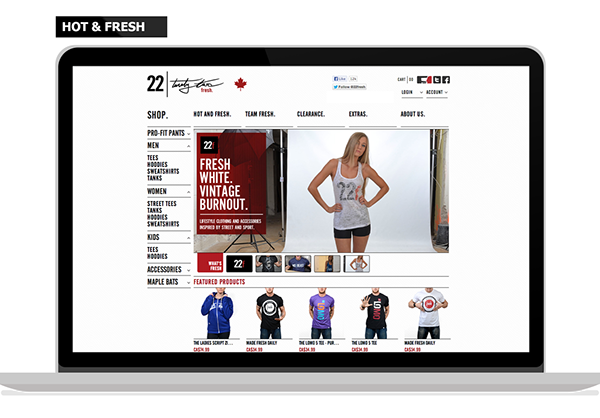 I initatied a project with 22Fresh that would see a new online store built on a solid open-source framework; flexible, expandable, and configurable to match their rapid market growth throughout the US and Canada. In addition to the website I was responsible for building custom social media marketing software, setting up and managing various 3rd party marketing tools, and taking active participation in their marketing efforts.
With a strong ecommerce presence and a healthy social media following, 22Fresh has grabbed the attention of the baseball super-elite in the likes of Michael Morse,
Bryce Harper and Logan Morrison.
I took careful and meticulous care in crafting the UI to flow beautifully and naturally through out the site - and in particular during the purchase process. This creates an amazing user experience and builds trust with the customer.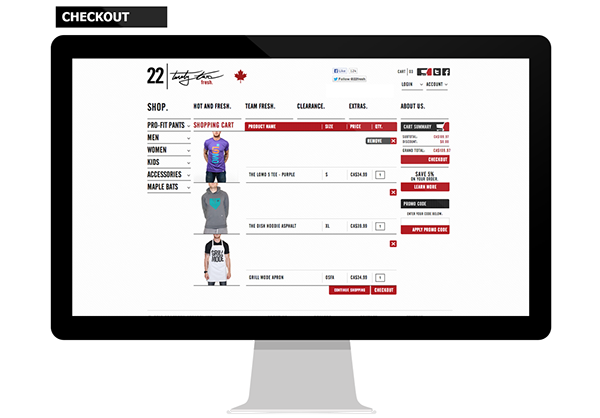 The website is primarly managed by an in-house 22Fresh team now. I look forward to their continued success and growth. PS: check out the BEAST MODE tee.