DC | FLAGSHIP STORE • SOHO, NYC
DC Flagship Store now in the hub of Art and Fashion
DC descends on SOHO! In May 2006, DC's highly anticipated flagship store in Soho, NY swung open its doors for their first time. We made the most of the 1500 square feet packing it with the best skateboard shoes, snowboard boots and outerwear, performance and streetwear apparel, Artist Projects™ and accessories. We also stocked the shop with Soho only merchandise.
The store stands out even in this district, a historic Soho neighbourhood thanks to it's modern, clean design. Inside the space, the first thing you notice is that everything in the store is suspended about 2 feet from the floor, serving as a tribute to footwear. "We only wanted shoes to touch the floor" says Mat Hayward, VP, Global Marketing. All the fixtures, including a giant molded customer checkout area, and the seating benches are suspended from the ceiling. This, plus mirrors near the ground. provide 360 degree angles of the skate shoes.
There are contrasts between the 'gucci' asphalt flooring and the shiny gloss handing fixtures, as well as highly polished chromed footwear racks. We wanted to bring the streets into the store literally but in a unique manner.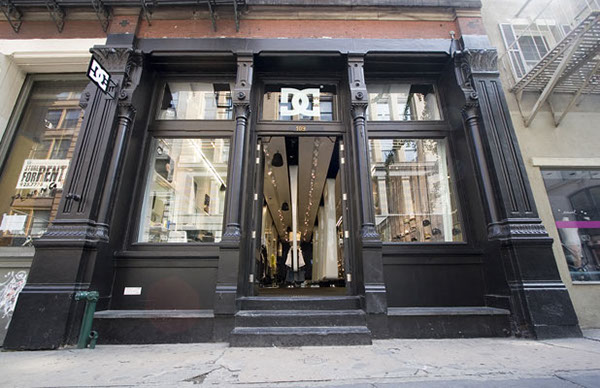 GRAFT was asked by DC to aid in developing our retail identity by designing our flagship store in the fashionable Soho district of New York City. GRAFT's spatial concept offered us with a unique and innovative interface as an expression of DC's values. The architectural branding was based on the principles of flexibility, suspended speed, and technical innovation.
All products are presented on moveable display units hanging from the ceiling. Hence the space can be reorganised to support different displays and events. The space's colour palate is limited to white and black. DC's signature colours, emphasizing the displayed products. Nothing in the space touches the floor, instead suspended mid-air as if in motion - a homage to skaters' gravity defying maneuvers. This idea breaks with the conventional rule in retail of 'putting the product on the floor.'