Senior Thesis
DECLARING A TYPOGRAPHIC REVOLUTION
This thesis publication and accompanying wall installation were displayed at the Corcoran Museum of Art in Washington, DC in May 2009 as part of

Variant_Metho

d

, a Senior Thesis Exhibition
.
This project was originally written, researched, designed and produced by Kristen Mallia.
*

WINNER OF THE 2009 SENIOR GRAPHIC DESIGN THESIS PROJECT AWARD.
Thesis Argument:
T
he Art Space must integrate innovative graphic design into its every decision in order to remain relevant to a culture of mass stimulation.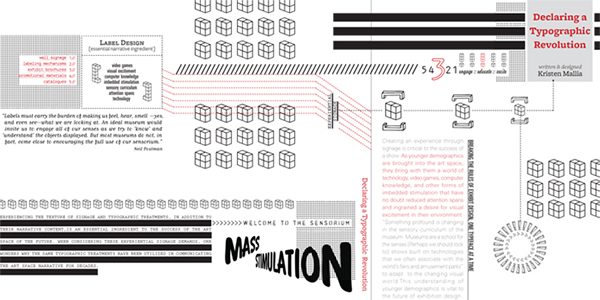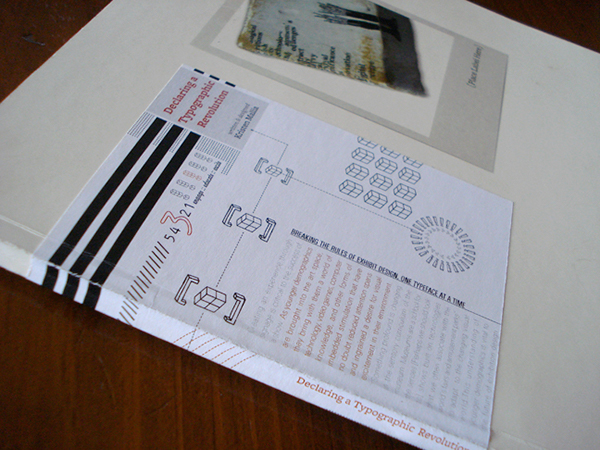 This 46-page publication includes multiple vertically unfolding spreads in addition to nine unique die-cuts that act as windows into interior pages. The variety of artwork, typography and design styles within each spread underscore the core thesis argument. They exhibit a variety of alternatives to current Art Space labeling, signage and display treatments based on subject matter.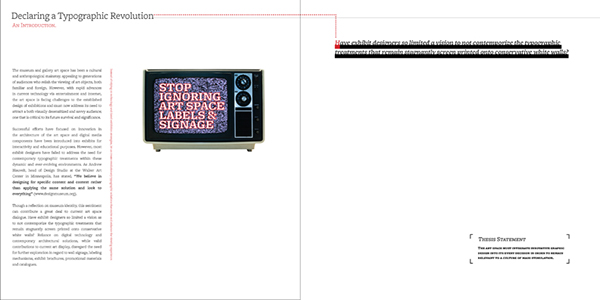 The installation component of this thesis project began as a poster design. The poster was then printed as handmade decals made from ceramic pigments, adhered to the white glazed surface of 25 handformed
(5' x 5') clay boxes and fired to permanence. The final display consisted of 25 archival text boxes hanging in a perfect grid on a white gallery wall as a sort of three-dimensional poster.