Commissioned by COS
Salon del Mobile 2013 / Milano
The overall concept is based on a facile connection (very fast building and disassembling), designed after the structural codes of the Atom. 
This Atom can create a number of infinite geometric structures and it offers a high degree of modularity (it's easy to transport, lightweight and very durable).
For us, "Modern Utility" (Name of the new COS collection) deals with simple, optimized forms created by modern technologies.
After a 3D printed prototype, we used RIM (Reactive Injection Moulding) to design all Atoms, which would be otherwise to achieve by utilizing an artisanal technique. 
Like a toy for adults, you can let your imagination run and safely build simple or complex shapes.  There are a lot of possible combinations and permutations to adapt this structure to indoor or outdoor spaces.
To enable quick recognition, each piece, each color and material corresponds to a useful and accurate place.  Colors have been choose to enhance product's visibility and display, to contrast with space and the joinery system. 
Indeed, this building construct can create a multiple of possible COS product displays. Some bars are notched in order to hang clothes or to create weavings made with vinyl string.
This pop-up store will always be useful - like the intemporal  white shirt - it has no lifespan, it can live in any scale and shape.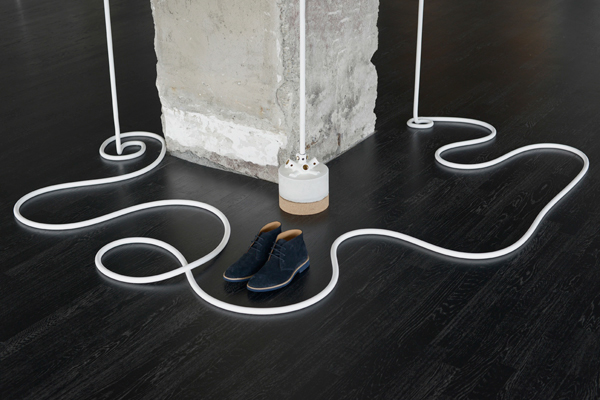 Jules and Gérald from

BIEN DES CHOSES
Mathieu and Julien from

LE CREATIVE SWEATSHOP
Lisa and Justine for their

LOVE

and

SUPPORT