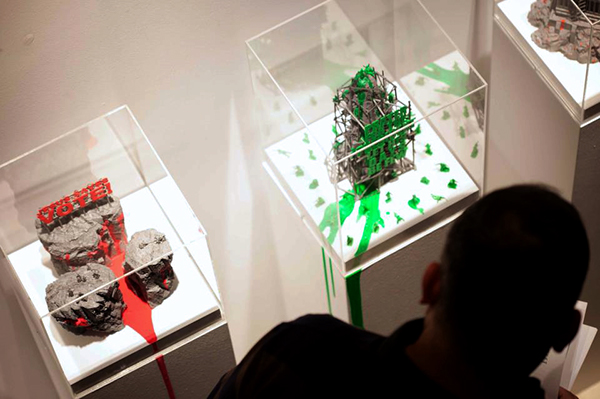 Dimitris Polychroniadis - George Tsolis, "REPENT", 2013
Exhibition at
Metamorfosis
Gallery from April 12 to May 11, Thessaloniki, Greece.
In times of social, cultural and financial regression -as now experienced in Greece- one cannot avoid facing mistaken choices of the recent past. Can the deconstructive forces of a crisis, become the motivation for self awareness, both individually and collectively? Humor, romance and dark surrealism are the vechicle via wich we attempt to explore the meaning of Repentance. 

Dimitris Polychroniadis reveals a series of mixed media,

 diorama sculptures. A colorful minature world that acts as the setting for the unravelling of (somewhat unsettling) human stories. The cultures of the lowest common denominator, advertisment and slogan art are presented in conjuction with social and political utopias of the early 20th century. Photography & video by Michael Dalanikas.
Δημήτρης Πολυχρονιάδης - Γιώργος Τσόλης, "REPENT", 2013
Στην αίθουσα τέχνης
Metamorfosis
, 12 Απριλίου - 11  Μαΐου, στη Θεσσαλονίκη. 
Σε περιόδους πολιτισμικής και οικονομικής οπισθοδρόμησης, όπως αυτή που βιώνουμε σήμερα, ερχόμαστε αντιμέτωποι με λανθασμένες επιλογές του παρελθόντος. Μπορεί η διαλυτική δυναμική της εκάστοτε κρίσης να λειτουργήσει ως κινητήρια δύναμη αυτογνωσίας σε προσωπικό και συλλογικό επίπεδο; Χρησιμοποιώντας ως κομβικά στοιχεία το χιούμορ και τον ρομαντισμό, η έκθεση επιχειρεί να προσεγγίσει την έννοια της 'Μετάνοιας' με όχημα τον υπερρεαλισμό.
'Μετά': ύστερα, αργότερα, πολύ αργά, αλλού, μαζί.
'Νοώ': βλέπω, αντιλαμβάνομαι, καταλαβαίνω, σκέφτομαι.
Ο Δημήτρης Πολυχρονιάδης παρουσιάζει μια σειρά από γλυπτά/μακέτες κατασκευασμένα με μικτή τεχνική. Ένας πολύχρωμος μικρόκοσμος μέσα στον οποίο διαδραματίζεται μια σειρά από ανθρώπινες ιστορίες.  Η παγκόσμια κουλτούρα των κλισέ, των σλόγκαν, της διαφήμισης, του χαμηλότερου κοινού παρανομαστή, σε μια υβριδική  διασταύρωση με κοινωνικές, τεχνολογικές και φουτουριστικές ουτοπίες του 20ου αιώνα.

Οι φωτογραφίες και το βίντεο είναι του Μιχάλη Νταλανίκα.