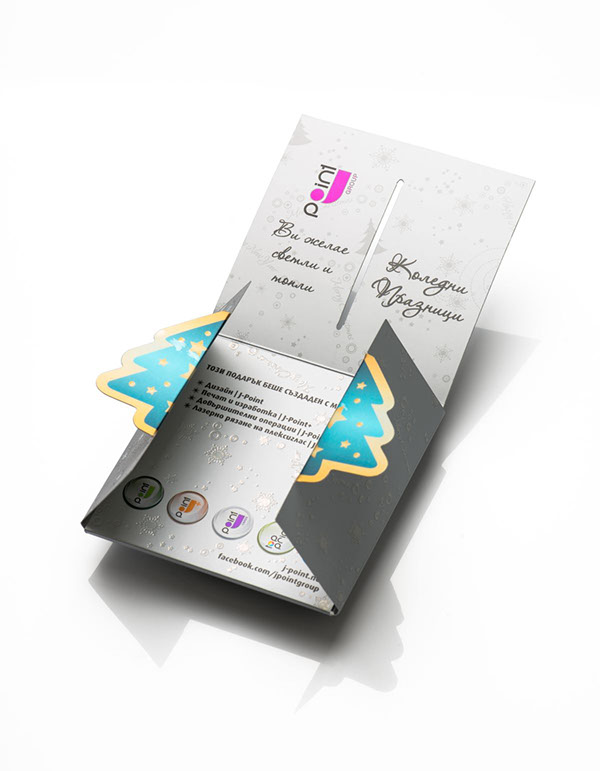 Searching for the matchless Christmas gift J-Point Group surprised their corporate clients with an original and imaginative product.  
Aiming to give to our clients a present together with a Christmas wish we create a card with additional accent.  
Due to our partners Shop 13 and Voyage.bg we create a Christmas gift together with a discount card for both sites.  
All our corporate clients received this unconventional two part gift. 

The package is made of a pre- laminated cardboard and then the printing. The uniqueness of the laminate is its ability to strengthen the colors brightness, as giving them metallic effect. The decorative embossed elements actually are partial UV varnish giving exquisiteness and luxury to the product. In addition there is a die made for the gift's special form. 

The plastic card in innovative for Bulgaria due to the nature of printing and the employed inks – 5 colored (silver bronze plus CMYK printing). All the cards are individual, embossed with gold print. Printed on the highest class digital press HP Indigo 5600 that has no quantity limit and printing in very short terms. 
The card additional accent is the discount it gives: discount for a gift from Shop 13 delivered for free also a discount at Voyage.com for each holiday booked by the end of 2013. 

Thus the Christmas package we sent to our corporate clients giving them the opportunity to have additional services and discounts at our partner sites. 
The entire concept, design and workmanship of the gift is made by the J-Point, J-Point+  and J-Point Cards teams.