In 2009 I started development on one of the most massive projects I´ve ever been involved with: The corporate portal for Hoteles RH, a leading hotel operator established across eastern Spain. The project encompassed a deep research on howinformation had to be deployed in ordr to optimize SEO and hence boost online reservations. This project became soon a landmark in my portfolio and its successive iterations spread till 2011.
All the site was designed with the user in mind although the content was engineered to attract search engines. These two requirements governed both site architecture and copywriting in regards that any item displayed on screen should be easily indexed by search crawlers while contributing a the same time to user conversion.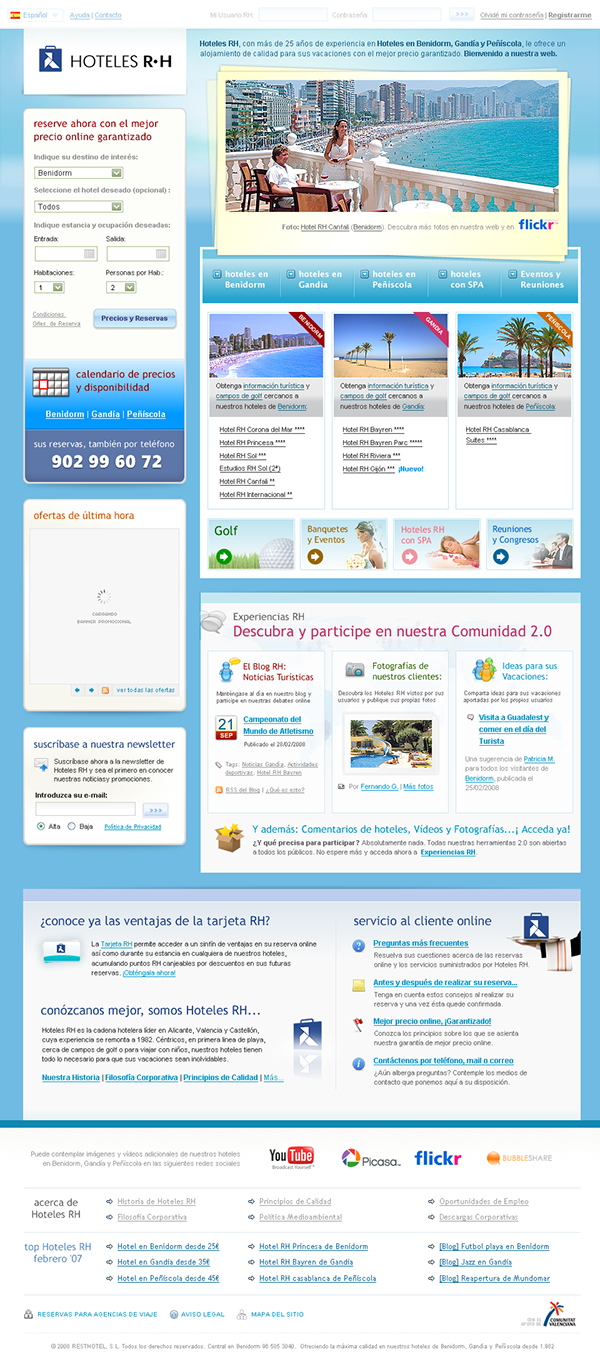 Each hotel detail page was designed to become a landing page by itself, giving the users the chance to trigger a reservation on the spot.
Destinations info pages became one of the most prominent starting points for user journeys towards the reservation process.
Destination pages were conceived as keyword farms while providing relevant information for our audience.
Destinations section was coupled with a dynamic hotels availability that provided real-time information about nite price and available for the hotels located on each destination.
With all those golf courses blossoming around the Valencia Region, we deployed pages devoted to showcase the different courses near our hotels network as a way to provide both an useful resource for our audience and a good tool to engace search engine crawlers.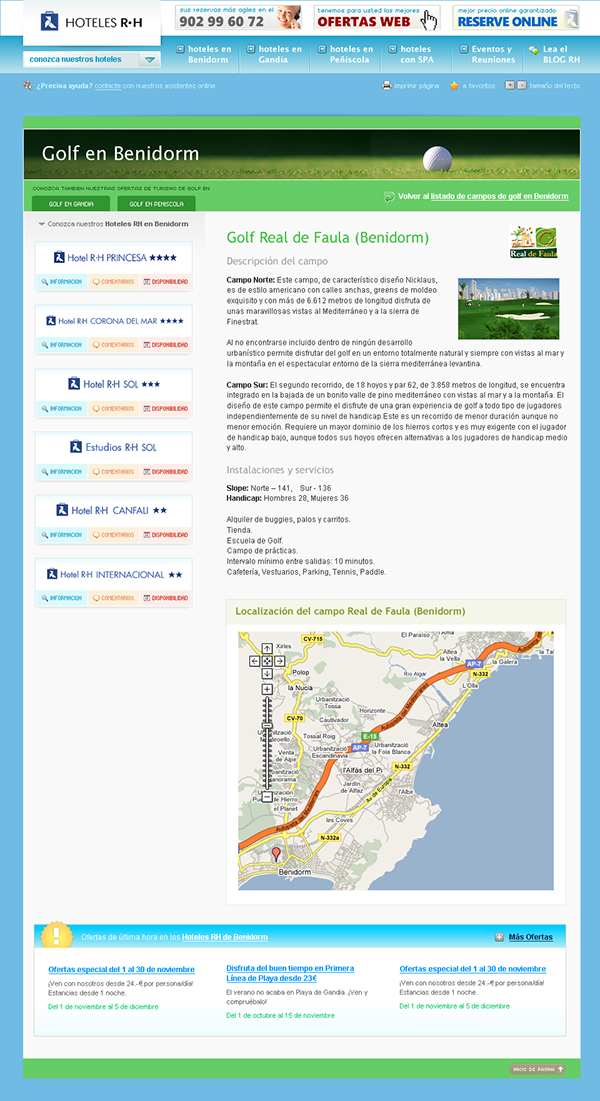 A set of specific pages were put in place to attract consumers interested in SPA tourism.
Hoteles RH used to run a wide range of offers and accomodation promotional programs. We deployed this information in a dedicated page with popup inofrmation and search engine functionality.
These hotels featured top notch facilities to host weddings, celebrations and business events. Instead of just displaying such information, we developed a complete extranet so event organisers could manage in a  convenient place important arrangements such as guest lists, promotional brochures, photos, etc.
Corporate information and recruitment tools also claimed their space in the overall site architecture.
In sync with our SEO strategy, we enforce a strong policy on customer care by providing fully informational pages with help, FAQ, hints for visitors, etc.
404 and 500 error pages were designed and deployed to become gateway pages by themselves, giving the user the chance to continue his journey through the site with convenient links lists.