Brand Identity + Print Collateral + Web Site Creative Direction
About this Project
The Inspiration
Mama's Boy Southern Table & Refuge is a new "Southern Bistro" restaurant in SoNo, CT. Inspired by
the
art and craft of letterpress typography, the Mama's Boy brand identity design combines the old with the new. Rustic, yet contemporary, the Kraft paper background gives a visual texture to the playful letterpress letterforms that gives depth to the overall look and feel
. 
The distressed texture within the Mama's Boy typography was created from actual wood type from the collection at the Living Letter
Press in central 
Illinois (see link below). The wood type letterforms range from 12" – 36" in height and were primarily used
for printing billboards in the 
mid-20th century.
With the help from my design colleague John Bonadies (mpressInteractive.com), I was able to use a beta trial for a new app called "SimplyMPress" (coming soon!). SimplyMPress is an environment that allows the designer to create beautiful compositions with recreations of wood typefaces, vintage impression textures, color, transparencies and paper, as portrayed in this new identity. In order to use this identity from print to web,
the final production for this system was beautifully produced by one of our design partners, Tammy Sneddon Design. Content for Mama's Boy was elegantly executed by Lisa Davis. Shari Finger Design LLC and her virtual partners are proud to present this design project.
 
About Mama's Boy Southern Table & Refuge
Come. Sit. Eat! Those three, simple, comforting words are at the heart of Mama's Boy. We call ourselves a "southern table and refuge"because that's exactly what we are. A place to enjoy casual, yet refined country cuisine where you're treated like family and can seek respite from the world in a relaxed, inviting atmosphere that pays tribute – in every way – to all that's great about the great South.
From the reclaimed wood from a Florence, South Carolina, water tower that brings warmth to our space, to the authentic Alabama railroad ties from which to hang your hat, Mama's Boy is putting the "South" in South Norwalk. As for the food? Fabulously fresh, locally sourced, lovingly prepared. You'll find all your southern favorites, from classic shrimp and grits to country fried game hen, with a modern Mama's Boy twist…because we like to present "low country" in high style.

And, let's not forget about that southern hospitality. So, when you see us pull chairs, hold doors, say please and thank you and cater to your every whim, chalk it up to our firm belief in good ol' southern manners.
Whether you're looking to experience a memorable meal amongst friends, or simply sip on a libation or two at our beyond magnificent bar, we're here for you. May our food warm your belly and our service warm your heart. Come on in, and welcome home.

 
About the Mama's Boy Chef 


Mama's Boy Executive Chef Scott Ostrander arrived at this stop on his culinary journey after a decade-long jaunt through the great south, where his passion for southern cuisine and appreciation for locally-sourced ingredients emerged. Chef Ostrander is delighted to now be taking his fresh, southern influences and good ol' comfort cuisine up north to the rustic, relaxed and friendly atmosphere of Mama's Boy.
Mama's Boy and Shari Finger Design LLC had the pleasure of working with Brian Casel at Restaurant Engine based in Norwalk, CT (http://www.restaurantengine.com) to create the Mama's Boy website. Using restaurant engine was a perfect choice for Mama's Boy. It allowed us to create a site that would showcase menus, events, news, gallery photos and more along with the opportunity to connect with our social media. Thank you to Brian and his team for a job well done! See screengrabs below.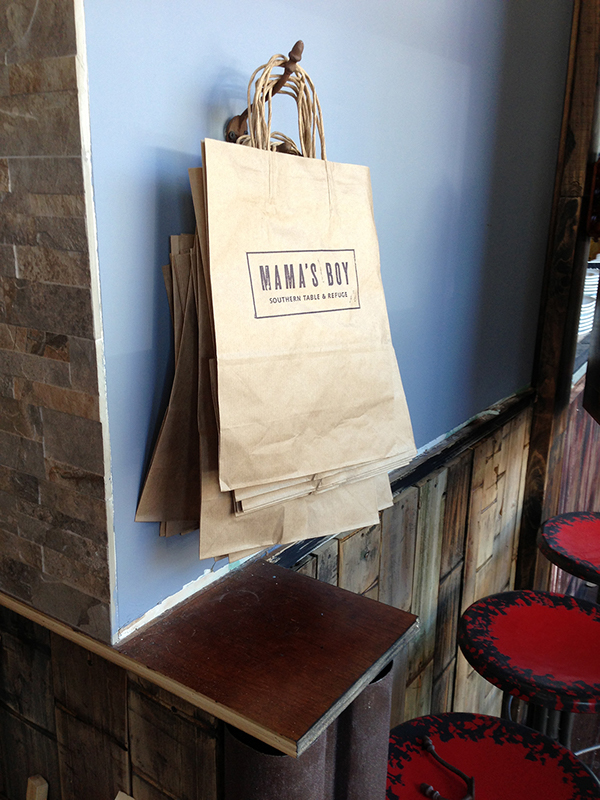 The Mama's Boy Southern Table & Refuge tables, bar and chef's table were all made from a watertower in Florence, South Carolina.
The Florence, SC Watertower wood was used for the entire bar (above) and chef's table, barn doors and shelves (below).
To visit the

LetterMPress

on Facebook:  https://www.facebook.com/LivingLetterPress