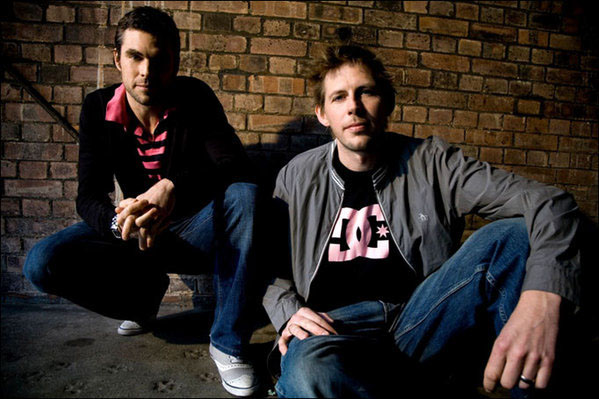 GROOVE ARMADA Vertigo (Jive/Electro)

Ah, what a fine day for a wine-enhanced Parisian lunch. Or how 'bout a big bowl of hot, steamy coffee, and a freshly rolled phatty to follow it up? Some chocolates, maybe? Throw in dreamy lava-lamp textures and a dash of tranquil funk, and you've got the sensual nucleus of Groove Armada's Vertigo.
The genius of Groove Armada's Tom Findlay and Andy Cato lies in their knack for dropping retro grooves onto trancey embers of atmospheric acid jazz, funk and house music. You might see a David Nagel portrait during the opening "Chicago," but it's shadowed by composed coolness. Then, like a flash, a funky guitar riff spawns visions of Robert Palmer music videos with all those harems of guitar-pluckin' models in tow. If you're in the mood for "sand dunes and salty air," slip into the nostalgic aura of "At the River," where an introspective trombone takes a solemn trek across an expansive field of contemplative, jazzy chords.
Combining live instrumentation with sequenced samples, Groove Armada goes from subzero chill on tracks like "Dusk You & Me," "Private Interlude" and "Inside My Mind (Blue Skies)," to scalding funk with two versions (original and Fatboy Slim remix) of their current underground club anthem "I See You Baby (Shakin' That Ass)." But Fatboy's take on "I See You Baby" alone is enough reason to purchase this disc; featuring a hell-raisin' Gram'ma Funk on the mike shouting out, "Funk if ya nasty, darlin'," Fatboy makes the track come even more alive with his heavy barrage of tight drum-machine rolls, pounding bass and spliced-in Sly Stone guitar riffs. Stone's influence on Groove Armada is also evident on the freestylin' dance-floor cut "If Everybody Looked the Same."