I was brought onto the project in Oct of 2012 and I was heading up the visual development of this spot.  I was to design the initial look for 4 different environments that would be featured in the spot.  The 4 different environments that would be shown were: Desert, Metropolis, Ski town and Beach town.
I was given a bunch of different art styles for reference and my responsibility was to direct this in any way I wanted to help sell this to Mazda.  They wanted something more simplistic rather than realistic.  I
immediately
thought of vintage travel posters that were graphically illustrated since the CX9 was supposed to be shown driving through the different environments during the spot and it would have some underlying nostalgia to older viewers. 
I also had to have most of the PSD files ready for animatics.  Generally when we were first discussing the spot, most shots were going to be top down like we were looking at a map.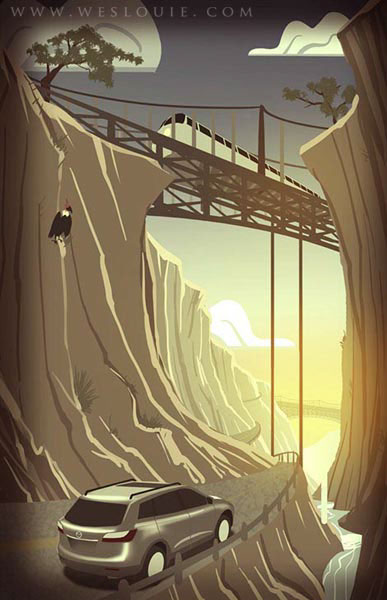 So after all of that, I got another call in Dec of 2012 to do a super large format illustration.   Another studio had finished a version of a print ad, but Mazda wanted it to be a winter scene.  To me, there were just a lot of things missing from their version to make it pop and the CX9 didn't even look like it was in the environment.  It looked like it was just plopped in there with no real purpose.  Of course, that's just me nitpicking to the finest detail, but that's the first thing I noticed.
Fast forward to a week ago and I was flying to NY via LAX and all through LAX on practically every monitor was the print ad.  This illustration was also used for online ads as well.
The first image below is the one that was handed off to me.
Here is the final, approved version that I sent off.  You can't really see all of the fine details in the image unless you see it really large(like at LAX) or at the PSD.
I also did a quick sketch for another print ad, but we didn't have much time to work on this so it was scrapped.