Fitbug Activity iPhone mobile app
Developed using Sencha Touch and PhoneGap (Cordova).
Connects to the server using Fitbug's REST API and authenticates through OAuth.
Designed in Adobe Fireworks.
Today main page
Info on today's data, can get updated real-time through the bug. 
The progress bar is the speed you are walking right now.  
The colour of the big text changes as you meet targets (see colour palette in History screen).
Today list
The main page is more about "what's going on right/until now", this page is more about your targets for the day.
History week
This page shows this week's info, the progress bar indicates the Total steps and the colour meaning is explained at the bottom.
History month
This page shows a monthly view of your progress.
Goals – Weight
Shows target weight and allows to update either through a Fitbug scale, just by standing on it it will detect your weight, or you can fill it in manually.
Goals – Blood Presure
Same as in Weight but with blood pressure (a BP device automatically connects with the app and updates the data).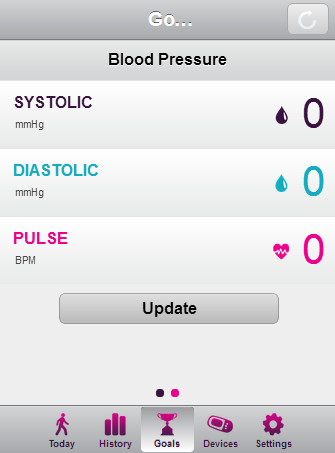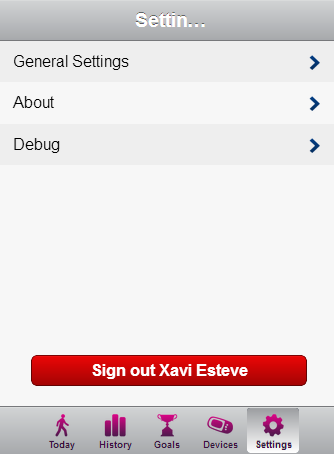 Paired Devices
Shows a list of the paired devices to this app, haven't got any in the screenshot but the data that shows is:
Bugs can be paired to the device (you can have many) and paired to the account (just one).
Paired to the device means the app is used to upload that bug's info but not for the current account.