This viewbook that I designed uses a UV Coating on the cover to highlight the words DESIGN - to bring attention to the subhead for the college which is Design Your Future. Also, the UV is used to coat an interior pocket. This book is printed on Finch Ultra Fine Bright White.  The last page is interactive. The prospect can paste their own photos on the page and it has a perforation so they can tear it off easily to hang on their wall. 
This is the Russell Sage College Viewbook. It uses a UV spot coating on the cover to make each of the images pop off of the page of the uncoated Finch Paper. Full color images on the interior pages really helps to show off the beauty of the campus.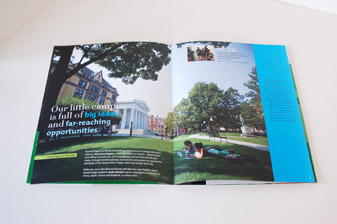 Ready, Set, College is a handy magazine that has been hugely successful for the college. It is handed out to prospective students as a service piece when our Financial Aid and Enrollment experts go out to the community to speak to parents and students about what to expect when they begin the college process. It is subtly branded with the colleges identity.
Art and Lectures is distributed to the local community to bring awareness to events happening at the college. I design it twice per year and it has a coordinating web page -
sage.edu/arts-lectures
& an e-communication that is sent out monthly.
This is an ad that ran in the local arts paper. It was designed for one of the colleges theatre productions using an image that was shot by our in-house photographer and then I used PhotoShop to place the sky in the background to give the sense of flying.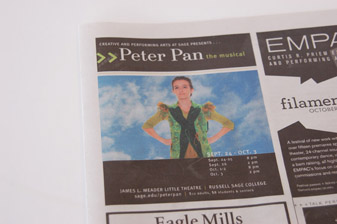 I redesigned the letterhead and business cards for the college. The black is over print on 4 color shells to make it cost-efficient while getting the quality look of offset printing.