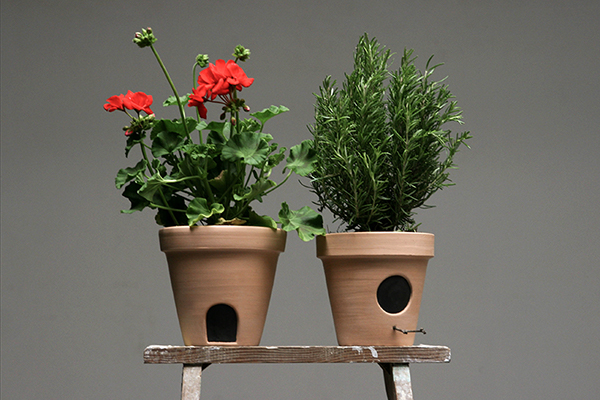 'Tiny Friends' are a set of two flower pots with figurative 'homes' for an imaginary bird and mouse. They trigger our imagination, spicing up our homes. They evoke all those tiny friendly friends we are usually eager to keep far away from us. But... They are not the enemy!
 
Not only they are harmless but necessary in an ecological sense... And it's nice to have them around anyway! As a child, one of the things i learned from my grandmother was to notice nature and the little creatures around me. How each one has it's own role, they are not just there to annoy us. In fact, as a kid, I would explore and observe and want to take them with me, but my grandmother would say: "you don't need to because they're not going anywhere. They live here too!"
 
Tiny Friends is  Sergio Mendoza's 2013 collaboration with
TIVD ( This Is Very Dangerous)
. The collection of 14 projects from 12 different countries was presented in Milan's Ventura Lambrate and had it's origin in our grandparents and heritage.
The master hands of 
Juan Carlos Iñesta
 were very important for this project. The pieces are and will be made by hand between him and the studio, and available online.