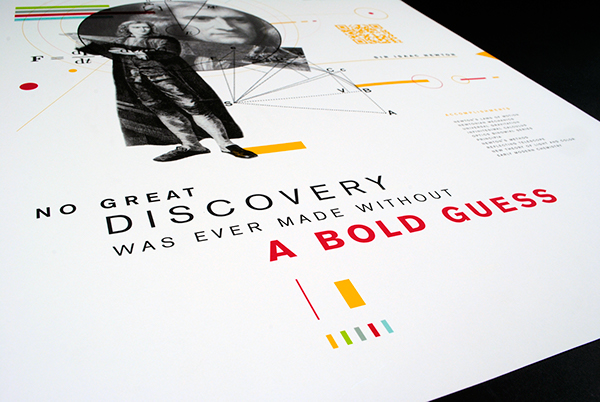 AIGA (Re)design Awards 2013 Winner
Title: STEM > STEAM Promotion
Client: STEAM Initiative
Designer: Nayrb Wasylycia; Faculty Advisor: Julie Mader-Meersman
Category: Student
"STEAM is a movement championed by Rhode Island School of Design (RISD) and widely adopted by institutions, corporations and individuals." — stemtosteam.org. This project is a student-initiated response to learning about the STEM to STEAM initiative ("STEM + art = STEAM"). It highlights and promotes the initiative, imagining a way to expand awareness of STEAM beyond its founding community into other STEM-biased university and public cultures in order to build momentum and understanding of the significant, added value of art and design in education. The hypothetical promotional/awareness campaign features a unique, art-centric, large-format poster series highlighting the creative perspectives of historically significant, iconic figures from each of the respective STEAM disciplines to add personality and a historical context to the subject. The posters tie into an app concept that would provide background information, details about the initiative, and ways to participate in and support it.
PROJECT SUMMARY
With an emphasis being placed on the STEM (Science, Technology, Engineering, and Math) subjects both in the K-12 curriculum and in higher education, a sense of momentum is lacking, as well as an exclusion of creativity and the arts. Initiated by the Rhode Island School of Design, STEM to STEAM adds Art and Design into this equation and brings creativity back into a level playing field. Businesses seeking innovation are not only looking for those who excel in the STEM subjects, but also for those with new ideas and creativity. With a progressing lack of funding for the arts in education, STEM to STEAM can play a major role in fixing this funding problem.
The design strategy for this project was to visualize STEAM in a way that was both approachable and engaging. By putting a historical face to each subject, inspiration, learning, and wonder can occur for younger students who are still deciding their futures. Using QR codes on each poster invites audiences to dive further into each STEAM subject, and gives them the opportunity to help the STEM to STEAM initiative as well as increase funding for the arts in education.