Unilever Australasia has asked us to research and position and new frozen confectionary brand for New Zealand to replace their current Calippo ice block in the Streets range.
With our new brand our objective was to create a product that expressed itself with a very New Zealand personality, something that people could relate to and is reminiscent of their youth whilst having a natural inartificial feel to it.
The product and packaging concept we used was a home made ice block aesthetic, this new brand will remind us 
of the ice blocks that we made in the freezer as kids out of fresh fruit on a hot summers day.
*Group assignment with Thomas Le Bas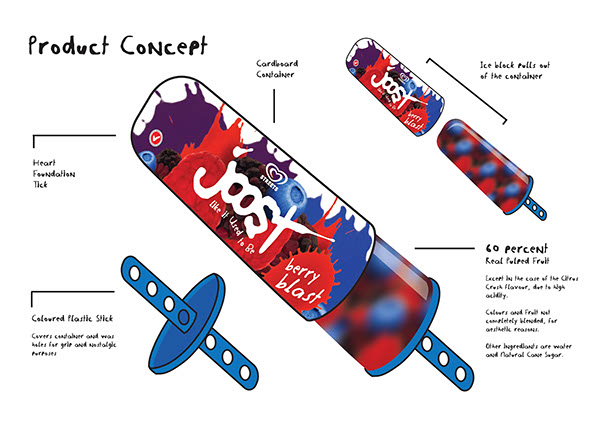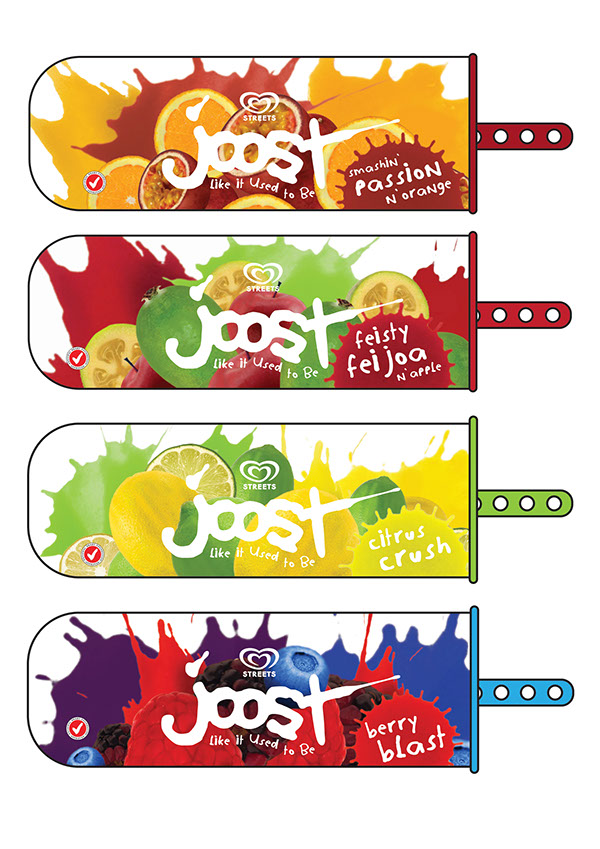 Unilever Australasia has asked us to research and positionand new frozen confectionary brand for New Zealand to replace their currentCalippo ice block in the Streets range.
Calippo currently positions itself between the childrensPaddle-Pop range and the more adult offerings, such as Streets Magnum.Although, Calippo has never been able to take off in the New Zealand market,because of its major competitor, FruJu, which has been consistently marketed inNew Zealand since the 1960s.
Although Calippo is the largest ice confection brand inAustralia, it has failed to translate into the New Zealand market. Calippossuccess in Australia is due the products 25% fruit juice content and theconvenient tube packaging. FruJus success is due in part to the strong emotivequalities that the brand expresses within its promotion, packaging, placementand price. The television advertisements, which have been around since itsconception, have proven to play major role in its success.
Firstly, Calippo needs to be removed from the New Zealandmarket to make room for a more Kiwi orientated product from Streets. The newbrand should ideally impact FruJus market share by strongly differentiatingitself from FruJu and not become a me-too product.
To compete against FruJu, the target audience needs to be verysimilar. FruJu plays with the tensions between adulthood and the juvenile in away that appeals to the middle group, teenagers.This means the new
ice-block product needs to target at adolescent New Zealanders, which isroughly the 14 25 age group.
The group aspire to be neither adults nor children but arein a stage where they can be who they want to be. They enjoy what is new andexciting and become more social and less reliable on parents. They begin tomake their own decisions and more things become available to them. Issues suchas health become more important to them in that their parents have less controland input over these decisions and money also becomes more relevant to them.Teenagers are the heart of consumer culture and define what is fashionable toboth the children and adults.
Natural and healthy food is becoming more and more importantto New Zealanders. This can been seen in the juice market where brands such asCharlies and Phoenix promote natural and honest juices made from real fruit(and Phoenix goes as far as to being organic).
Consumers are becoming more aware what packing isrecyclable, as to not create more waste and care for the natural environment.The Juicies brand has made the effort to make their packaging recyclable.Sourcing materials and ingredients locally has become significant to theconsumers also, in that they mean the product is not only contributing to theNew Zealand economy but also reducing effects on the environment in terms ofwaste.
The rational values of this hypothetical brand will be thatit consists of real fruit that is more pulpy or chunky than just being frozenjuice, but also a high content of fruit. This will indicate the brand as thehealthy alternative to other fruit juice ice blocks. The flavours will bemixed, not singular and be a little different and also have a wide range tochoose from. The ice blocks will also be at an affordable and reasonable price,similar to the price of a FruJu.
The brand will convey a sense of the homemade, the honestKiwi feel; as if it was something we or our mothers made in the freezer athome, perfect for saving for a hot summers day. This can be appreciated andvalued across many age groups.
Customers are beginning to value the honesty and naturalfeel of products, which is more and more evident in the teenage market withproducts such as Charlies Juice. Having a product that is approved by theheart foundation would also be a bonus in verifying the products healthiness.
The product needs to express itself with a very New Zealandpersonality, something that people can relate to and is reminiscent of theiryouth while having a natural, inartificial feel to it.
The brand will remind us of the ice blocks that we made inthe freezer as kids out of fresh fruit for a hot summers day.
The product needs to express homemade qualities and naturalimagery, while also appearing as a healthy alternative to otherice-blocks/ice-creams available.
Unilever wish to retain the high fruitcontent of the product, as this is in line with the companys policy to providehealthy options. Unilever want to use this as a main selling point