Tienda de joyería, textiles y artesanías mexicanas en Valle de Bravo para Co'tantik y Puerta del Cielo. 
El reto fue traducir el diseño de la tienda de Co'tantik en Guadalajara y crear una identidad para Puerta del Cielo, mientras ambos conceptos se fusionaban.
Jewelry, textiles and traditional mexican crafts shop in Valle de Bravo for Co'tantik and Puerta del Cielo.
The challenge was to translate Co'tantik's store in Guadalajara and create an identity 
for Puerta del Cielo while  blending both together. 
Diseño/Design by Juan Pablo R. Valadez and Karen Oetling.
Fotografía/Photography by Karen Oetling.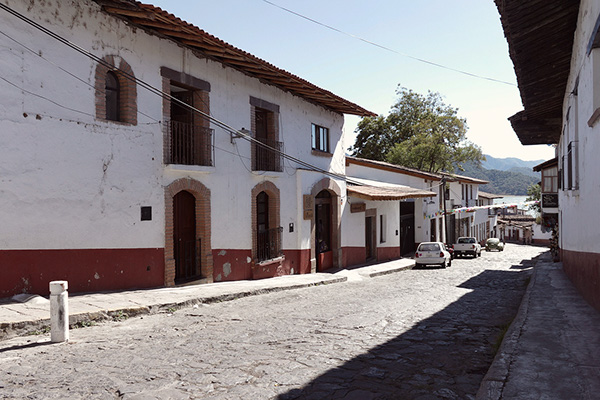 Un segundo piso fue creado para aprovechar la altura del lugar, no sólo se duplicó el espacio de exhibición en dicha área, sino que se generó una segunda perspectiva de la tienda y sus productos. 
A loft was created to take advantage of the double height, where not only the space of exhibition is doubled, but it gives the customer a second perspective of the shop.
Repisas abatibles permiten ajustar su configuración dependiendo del tamaño de las piezas en exhibición. 
Collapsible shelfs are adjustable according to the pieces shown.
Los marcos particulares de Co'tantik, presentes en la tienda de Guadalajara, fueron traducidos en un muro repleto de éstos, generando una clase de rompecabezas.
Co'tantik's particular frames, used in Guadalajara's shop, were translated into a wall full of them, like a puzzle.