Nouruz Pirouz, Autonome Region Kurdistan / IRAK !
Nouruz / Newroz | Der neue Tag - Frühlingsfest am 21. März   
In 2010 hat die Generalversammlung der Vereinten Nationen den Internationalen Nouruz-Tag anerkannt. 
'...
Feststellend,

dass der Nouruz, der Tag der Frühlingstagundnachtgleiche, von mehr als 300 Millionen Menschen in der ganzen Welt als Beginn des neuen Jahres begangen und im Balkan, im Kaukasus, im Nahen Osten, im Schwarzmeerbecken, in Zentralasien und in anderen Regionen seit über 3.000 Jahren gefeiert wird.
Eingedenk dessen,

dass einer Kultur des harmonischen Zusammenlebens mit der Natur, wie sie bei allen Zivilisationen der heutigen Welt zu finden ist, eine immer größere Bedeutung und Relevanz zukommt.
Sowie eingedenk dessen,

dass der Nouruz als Ausdruck der Einheit von Kulturerbe und jahrhundertelangen Traditionen eine wichtige Rolle dabei spielt, die Bindungen zwischen den Völkern auf der Grundlage der gegenseitigen Achtung und der Ideale des Friedens und der guten Nachbarschaft zu stärken...'
Auszug aus 1. RESOLUTION 64/253 United Nations verabschiedet auf der 71. Plenarsitzung 2/2010.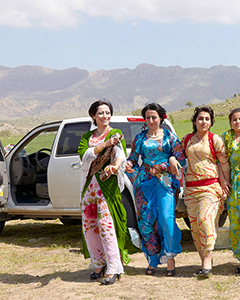 Der Medien undienliche Bilder                    
Alltägliches Leben im nördlichen Irak | Autonome Region Kurdistan                                                      Bombenattentate, verschleierte Frauen, bewaffnete Soldaten, bewaffnete Terroristen, … sind die Bilder in unserer gegenwärtigen Medienlandschaft. Sie sind in unserem kollektiven Gedächtnis stark verankert.
Bilder und Berichte über das alltägliche Leben sowie die kulturelle Vielvalt im Irak sind in unseren Medien selten existent. Nach meiner Erfahrung sind jedoch Kenntnisse darüber kaum vorhanden. Mein Anliegen ist es zu den zumeist symbolhaft eingesetzten medialen Bilderwelten und die daraus resultierende scheinbare Kenntnis der Rezipienten ein informelles Gegengewicht zu schaffen.
Unconvienient images for the media.                 
Every day life in nothern Iraq | Autonome Region Kurdistan.
Angela Bergling is a conceptual photographer based in Berlin, Germany and Switzerland.
If you prefer not to receive my Newsletter, please send me an email.
© Angela Bergling | www.angelabergling.com | Mobile +49 (0)171 416 71 56 | Berlin Germany