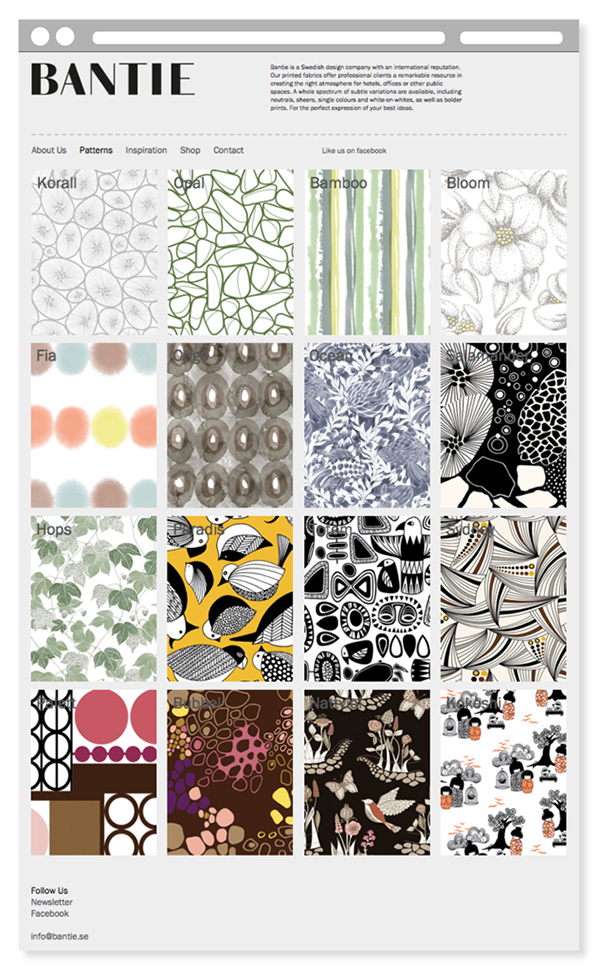 Bantie




Re-Branding of design company focusing on printed fabrics



Dalston was asked by Swedish company Bantie to take a look at their brand. Bantie has been around since 2007 and has during this time changed their direction, from targeting the public to directly target other companies. The time had come for a new identity. Dalston's main goal in the re-branding was to reposition Bantie as beeing a more sophisticated and smart company. The identity was created to strengthen and clarify the brand towards Bantie's main target audience, architects and interior designers.
A large part of the branding was the website. Dalston designed a responsive site which works on all digital platforms. It is created to be very visual, and rather than WRITE a lot about their products SHOW them and how the fabrics can be used. People visiting the Bantie site should be inspired and easily understand the products.
The logotype is based on a classic modern serif but re-drawn and with all the serifs removed.  This goes hand in hand with what the new Bantie stands for, simplified sophistication. The logotype is always used big and bold, it is a proud logo and a proud company.
Colours has been kept to a minimum and letting the Bantie fabrics speak for themselves. Black and Cool Grey 1 are the colours of choice and goes through in all printed and digital matters. The typeface beeing used is Franklin Gothic.
Creative Directors: Sofia Darke and Magnus Darke