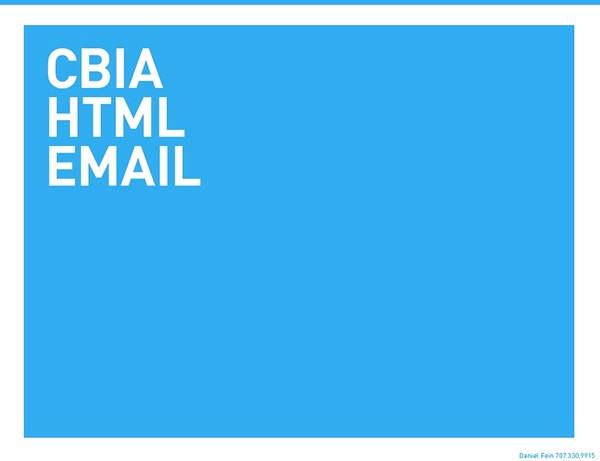 The proposed goal is to give the CBIA (California Building Industry Association) email announcements an updated visual identity that works within the existing vocabulary established by the company to help them communicate with their members and encourage online engagement.
Working with the Stutzman Public Affairs and the messege/tone criteria they established the following targets were set.
The specific communications are:
1. A weekly report
2. A biweekly news summary (with ads)
3. A Victory Lap announcement (unscheduled)
4. A Call to Action announcement (unscheduled)
5.A general purpose template (for all other communication)
These templates will be designed to work within the client's Builder Fusion email system to allow the client to easily sent communications with the new look and feel.
The look/feel keywords are:
Modern, Clean/simple, Business, Optimistic, Positive, Active
Additional keywords:
Sustainable, Communities, Families
The preferred colors:
Blue, Grey, Green
Requested type treatments :
Masculine, heavy in feel.
Additionally, they wanted to express that they represent builders of communities, planners, thinkers, not just building construction, that the California Building Industry Association is a member of the building community.
Original Tagline:
CBIA Means Jobs
Proposed Tagline family (depending on the communication):
CBIA Builds Jobs
CBIA Builds Homes
CBIA Builds Community
CBIA Builds Businesses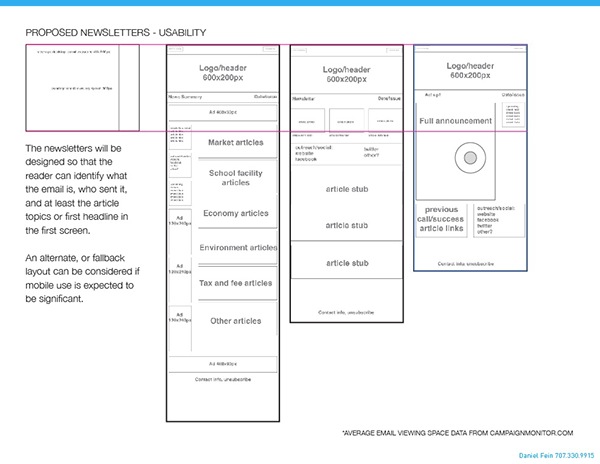 The textured pattern along the head and foot derive from the existing client logo and a mixture of colors from the working pallet.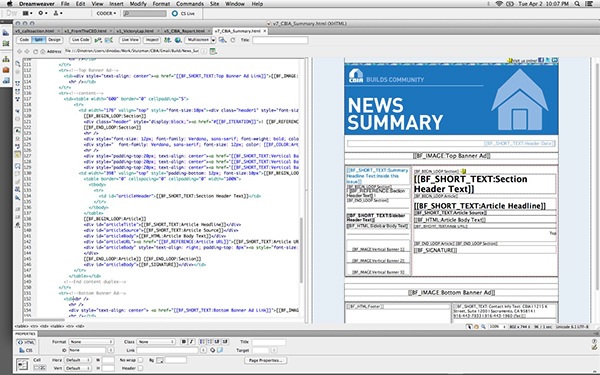 HTML Email is a fantastic time machine, it requires code that would have been more at home in the mid 90's, tables, inline styling, and very careful checking of email readers and web based email clients. This particular case complicated a bit by CMS markup to allow the client to edit and sent email without having to fuss with the messy backend.
A look at the client side of the CMS, it allows them to run a basic word processor through the browser to fill in content to the template defined fields.
Longer ad bearing digest format.
The email was also tested on mobile, as it is increasingly the primary email viewing tool.
Fallback if images are not loaded