5 Things you can't miss in Munich during Oktoberfest
Guest blog for AdventureWorthy.com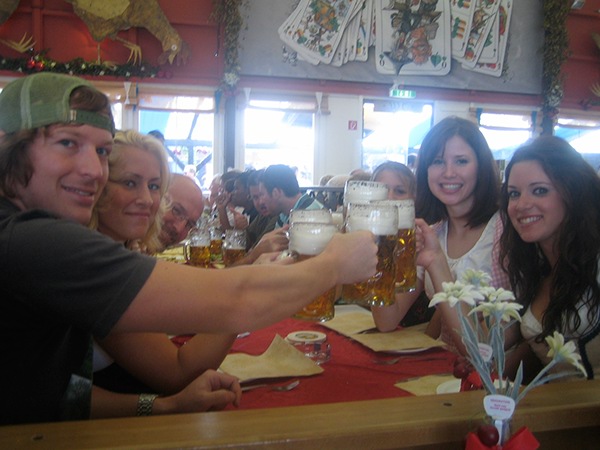 Known as the largest People's Fair in theworld, Oktoberfest, in Munich attracts six to seven million people a year, whoconsume over one million gallons of beer!
Munich has been celebratingOktoberfest since 1810 when Prince Ludwig married Princess Therese vonSachsen-Hildurghausen.
Thisyear is the 200 anniversary of Oktoberfest in Munich and isexpected to be the largest (and the craziest) to date.
These are 5 things you in Munich during Oktoberfest:
Known as the heart of Munich, Marienplatz is alarge open square and a great place to sight-see, shop, eat and of course relaxand drink beer in one of the endless outdoor venues.

 

You can find the Glockenspiel in the New Town Hall, andPeterskirche, the oldest church, in the area here.
Rent a cruiser bike andthis is a great spot to start your exploration of the rest of Munich's citycentre.
Located
near and in southwest Bavaria,
outside Munich, Castle is a great place to view the Bavariancountryside and gawk at the wonder. Crowds are drawn to the amazing views, majestic architecture (it is themost photographed building in Munich), mysterious death of the commissioner"Mad King Ludwig" and the following created by the 60 million people who havevisited it since 1886.
Even bigger then NYC'sCentral Park, the English Garden provides an oasis away from the none-stopactivity of Oktoberfest.  But don't worry, you can still get a beer! Stopat the Chinese Tower and enjoy live outdoor music and a cold brew at thisfavorite outdoor beer garden.  Make sure to check out the river surfers onyour way back to the Oktoberfest grounds.
A favorite is the half chicken from one of thebeertents. Maybe anything taste good after two liters of beer… but this is the juiciestchicken you will ever eat! Also, make sure not to miss the giant pretzels, SchneidersAventinusbierbtratl (Schneider's Beer Roast), Portion Schweinshaxe (PortKnuckle) and of course Wiener Schnitzel.
The beertents on the Oktoberest grounds arethe number one thing that cannot be missed in Munich during Oktobferfest! Checkout this site for a description of the 15 beertents:
http://www.oktoberfesttours.com/beer_tents.html
.
Among the best and most wellknown, these are recommend: seating over 4000 peopleand it has some of the best entertainment on the Oktoberfest grounds,
sister tent to the famous
in is pure craziness, and

the only beer tent at Oktoberfest that will serve you a cold beerwithout being seated, and of course
which seatsover 10, 000 people and is the location of the Official Tapping of the Keg onOpening Day
.
To get the most outof the beer tents, be sure to learn the words to .
  

When everyone in the beertent stands on their bench andbelts out the words to ,you will want to sing along!

 

It means: Atoast, a toast, that cosy feeling… A toast, a toast, good vibes…one, two, threechug it down!
Be sure to dress like a local! While Dirnldsand Leferhosen can be expensive, there are discount and second stores all overMunich!

 

Surprisingly the airportstand (outside arrivals in terminal 2) has great deals (Dirndls for 49 Euro).Also check out the street across from the
Hauptbahnhof (CentralStation) for more discount shops.
Wondering how to fit it allin? Can't imagine planning it all? Ludus Tours (
www.ludustours.com
)includes everything mentioned above in their Oktoberfest tours(www.oktoberfesttours.com)!
Arrive in Munich on Friday,explore Marienplatz, the City Centre, and English Garden by bike, enjoyauthentic German food at a local restaurant, visit

Castleand enjoy the craziness of a beertent all in time to head home Monday!
Thetours are great for individuals, families, and corporate groups.

 

24-7 Ludus Guide assistance isincluded! For an unforgettable experience check out Ludus Tours! For moreinformation visit
www.oktoerfesttours.com
or e-mail
Victoria@LudusTours.com
.