NEW CONCEPT AND DESIGN FOR SEDUCCIÓN
Seducción was a semi-premium product of the chocolate family in Nestlé, but the client wanted to renew completely this product by changing the product's shape, packaging design and even it's formula. 
They wanted a new more-premiun concept and an attractive product cover, enhancing the new shape of the bar. That was the challenge.
Flavors: Chocolate with Milk, White Chocolate, Chocolate with Hazelnut inclussions and Chocolate with Almond Inclussions.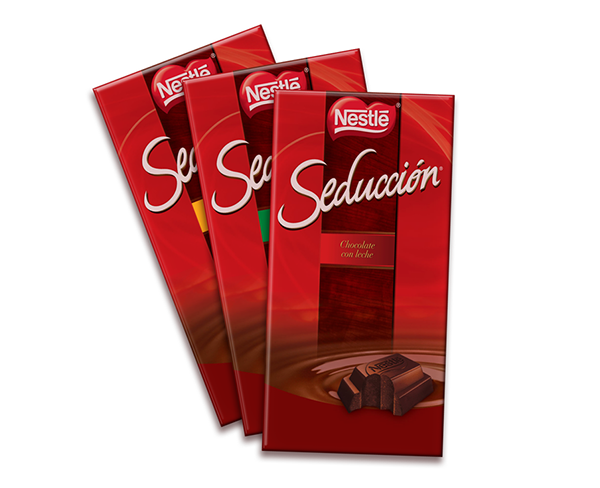 Some renders to see the shape of the chocolate pice of the bar.
FIRST PACKAGING DESIGN OPTIONS
Below we can see my firsts options of packaging design I made for the new SEDUCCIÓN. The idea was to make it simpler, more premium and more appealing to show the new shape.
OPTIONS 3 AND 4 were approved so I made the adaptation of the 4 flavors in both designs
I made this assembly with our designs and the competitors designs in order to see if they make the difference.
So, the client made a new request in the road to perfection. They needed to show the inclussions inside the chocolate bar, not only outside. Then we decided to make a sliced chocolate behind to show the inclussions in the chocolate bar.
The Client decided to keep this option as the final design. So I put the new sliced chocolates and make this new assembly. They worked perfectly.
The client gave us some samples of the actual shape of the mold. and we could see a more curved shape than the one I model first. So, I took a new modeling time.
The changes I made were to smooth the curves and the brand above the bar.  Also, I made a rough edge in the base to simulate they were broke carefully into pieces.
Below we can see the new renders.
At the end of the process, we sent my final renders to our illustration supplier to make them more realistic to apply them in the final layout.
Below we have the resulting illustrations by
David Chung.
This is how the design were approved by the client. We put all the design into a single vertical shape in the middle of the cover. It was a very prefectionist but funny project
. At the end we were happy by the results.