Nestlé wanted to launch an innovation from one of their most popular chocolate products: Galak.
The idea was to mix the white chocolate with little bits of chocolate cookie.
In The Galak Brand, the Milk is the main element to stand out and so their Galak Cow character, so, we needed to find a way to put together the Milk, The product, and the elements of the Brand.
At first, I needed to create the Sub Logo for this innovation. So I played with different types and I found these with the perfect shape and thikcness. In the first one, I made a few edition in the type and added some bits representing the cookie. In the second one, I wanted to show some joy and fun playing with the letters 'O' of the word cookie, a few changes in the type were made too.
This graphic concept would be used in several packaging. 23 g, 100 g, and the Multipacks, so we decided to beging designing the concept to the very smaller package in the family. The 23 g, because is the one who you can purchase by individual to eat. We need to make this one very special and very attractive.
The Nestlé's request was to stand out that this kind of Galak is an innovation. A new product very different from the regular Galak, but part of the family. I made my concepts thinking about gathering 50% of new elements, and 50% of Regular Galak Brand Elements.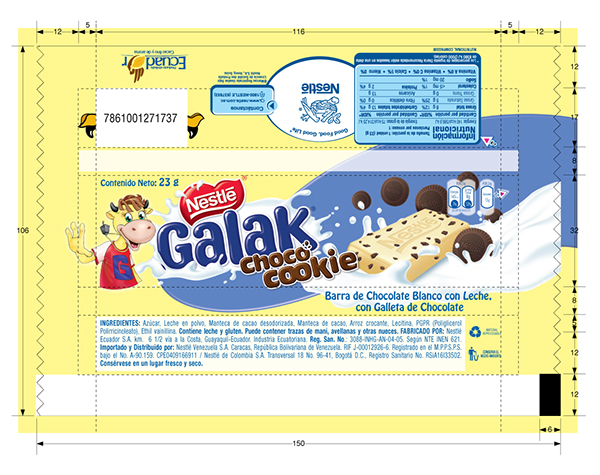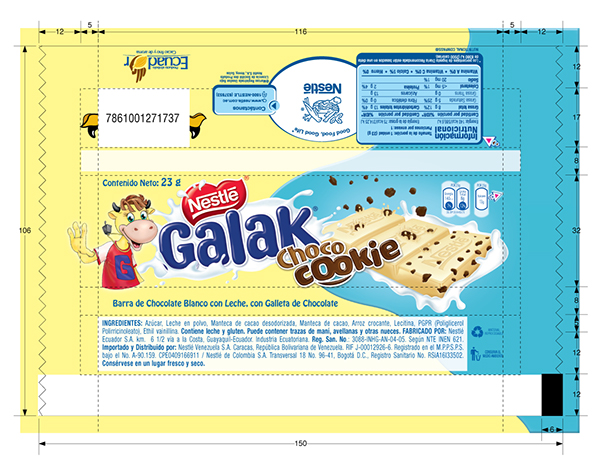 External Illustration of the chocolate bar
The final illustrations was developed by David Chung, our external supplier.  He achieved a really natural look of the chocolate with the cookie bits and the little meteors of cookies got a really good looking falling into the  chocolate bar. The milk splash around looks great too.
I needed to put the final elements together and I found some problems in the layout, because of the legal elements from the Nutrition facts and such, so, I use the other angle of the bar and make the color shape simpler.