Anti-Bird Strike
Millions of wild birds are killed each year by flying into windows and exterior surfaces of buildings. In North America alone, large amounts of bird species have deadly run-ins with 
glass windows. Thank fully, you can prevent these window strikes from happening with
Anti-Bird Strike (ABS) system.
The ABS system consists of a scientifically-tested pattern that registers with birds when its properly adhered to glass windows. The only provision is that the shapes within the pattern, which create negative space, needs to be less than 10 centimetres apart.
 
Perforated vinyl with a low tack backing is our material of choice. Provide and create any custom shapes and or patterns, feathers, leaves, and trees are the most popular shapes and patterns as they're evocative of nature.

From the outside looking in, the ABS system is white with reflective properties; and from the inside looking out, the ABS system is black with a tinted effect. This allows you to still enjoy your view as well as save some birds.
 
3: Print/Cut on white perforated vinyl.
4: Weed out negative area.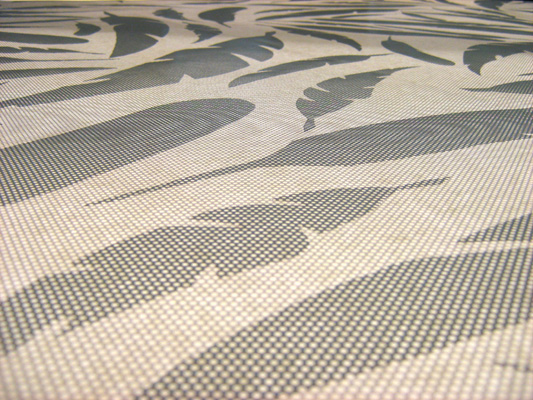 5: Applying paper pre-mask to the top of the feather pattern for easy peel away install.