A wooden box inlayed with a brass/copper alloy gecko. It holds 14 disc shaped bezels for a wrist watch that allows the user to change its colour. The box has a beeswax finish with a velvet interior and measures 115 x 80 x 46mm.
Magnets hold the lid closed:
Finished box displaying the watch parts. The padding had to be changed to a lower density foam since it was difficult to remove the bezels from the original.
A few stages in the making:
The feet and tail went bent and cut at the correct level: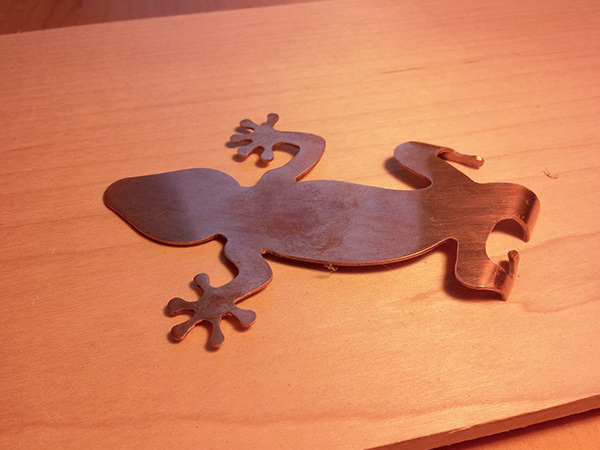 Bending the gecko's feet and tail around the box presented a challenge. Trial and error was required when cutting the shape in the wood because the gecko couldn't be lined up in all three planes until all the necessary material was removed. Shown here is the rotary tool I used to do this:
Ready to be glued into position:
Wood was removed from the lid to allow 2mm foam sheet to be inset. This is partially completed below:
The mitred joints give a neat edge between the faces: