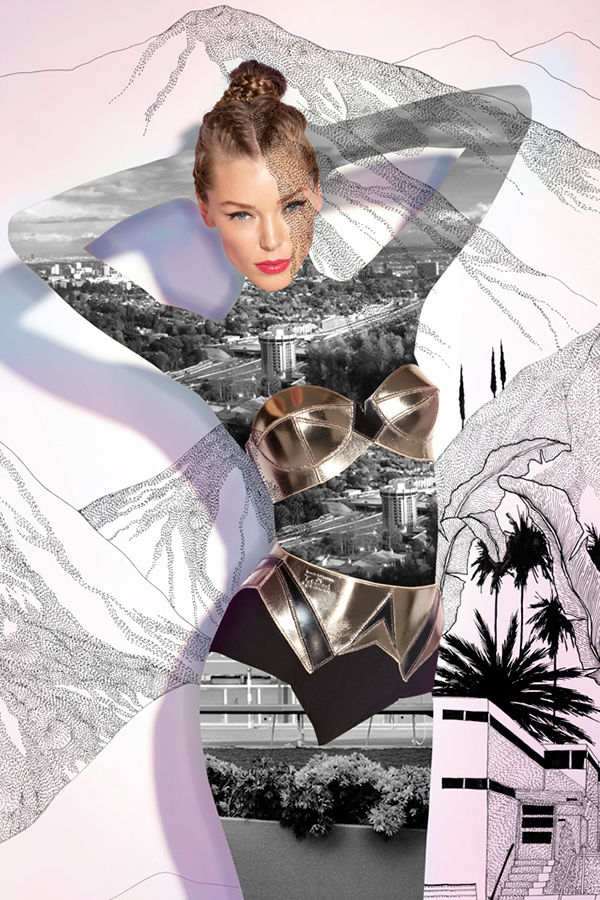 A bipolar love story



When Lascivious suggested that they had a collection in mind that we could collaborate on, I was thrilled. I chose just one photograph from the SS13 collection in the end. For me, the most striking... glamour meets cyberspace, the modern twist on the infamous pinup girl! 

I wanted to intensify her sensuality, create more layers of identity and give it a sense of time and space. Chloe (Creative Director and founder of Lascivious) mentioned that some of the inspiration for this collection came from looking at shadows of palmtrees and how they form patterns on surfaces. This made me think of LA and its multifaceted personality that I have discovered over the past 19 years.

LA is a city that reveals itself over time. Full of cliches and tacky expectations, and yet very intimate, its real life carefully wrapped up within the insular layers of subcultures that exist there. Alike, this multilayered deconstructed visualisation of Los Angeles through the prism of my own interpretations unveils slowly, only to those who really take the time to look.

What I find most extraordinary and easy to relate to in LA is a sense of space once you leave the busy murmur of the city. The silence of hills with endless trails and a few kind smiles to greet you on your way. A harmony of modernist architecture set within the fluidity of hills. A trace of history hidden in carefully tucked away corners of the city, quietly sailing through time. The environment has evolved in stages in and around the initial photograph to become what it is: a little bit of everything I most cherish about this city. The 'cyber girl' seems to be having a good time hanging out on the scene.