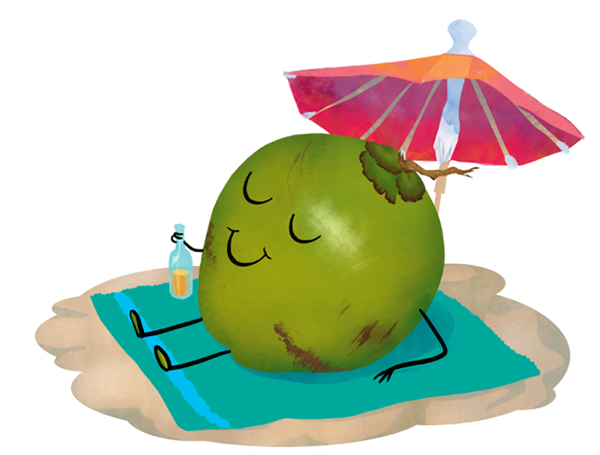 ESPjr "Island Babies" Collection: Coconut
Wiggles and Giggles, Sunshine Smiles, Salty Kisses and Sandy Toes!
Made in the Caribbean

This first collection by ESPjr features a range of clothing and merchandise for babies and children featuring the Caribbeans cutest characters. Merging art, storytelling, and environmental awareness, this national pride themed series pairs cute island tag lines with simple, contemporary designs that carry big messages, giving adults the opportunity to let the children in their life make a statement.
 
The coconut is a versatile fruit enjoyed in Trinidad & Tobago.

A vendor staple, the top is chopped off, and the "water" inside enjoyed straight from the shell. Splitting it, you can use piece of the shell to scoop the sweet gelatin-like jelly inside. The hardened jelly of older nuts is used to make sweet treats such as ice cream and sugar cake, or pureed to create coconut milk – a staple for oil down, curries and calalloo. Even the last bit, the husk and the shell, can be used in agriculture as potting material.
Creative Direction: Jeunanne Alkins
Illustrator: Sayada Ramdial