Hungry Helga iphone/ipad game
Hungry Helga is a little game made for the iPhone and Ipad. It was created by myself (art/animation) and Wade Lutgen (programming) over the course of 5 months in our spare time. A few hundred hours each were put into this and were very happy about the outcome. It was my first venture in making a game and learnt a lot along the way.
www.hungryhelga.com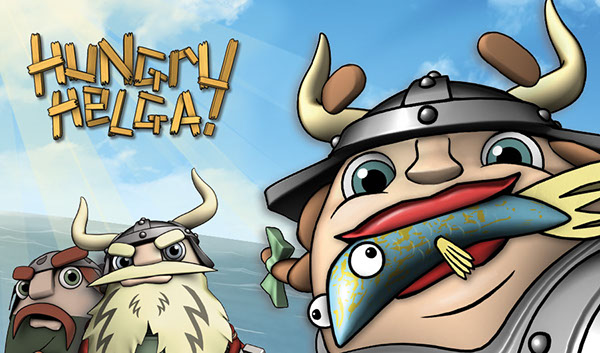 Hungry Helga puts you on a viking boat where you have to man the boat and shoot at fish with your cannon. The dead fish will then float to the water surface where you have to move the boat over so that Gunkel can scoop the fish up and toss them in the air into Helga's mouth. Helga likes to be fed...always. Feed her and shell grow fat and happy, and may even begin singing. If you dont keep up with her appetite, she gets thin and raging mad and then proceed to sink the boat.
Concept to completion:
The process went very smoothly. 2 revisions at most for the concepts. I had to figure out ways to quicken the character pipeline so that I didnt have to do things again and again for each character. This was kept in mind from the the start. Kjirk and the scooper, Gunkel share the same body and and rigs but have diffrent accessories like the facial hair. Helga uses the same rig for each of the weight states. The rig allowed me to morph into a fatter/thinner helga changing the rig placements etc on the fly.