A charrette urban design proposal, conducted and submitted by a three person team as part of a competition held by Codema and Dublin City Council (PIVOT Dublin) in early 2013. The project examined the possibility of a concept strategy to harness the passive foot-fall of pedestrian activity along Dublin City's foremost thoroughfare.
 As team leader, my role involved co-ordinating team meetings, conducting design proposals and submitting the final design sheets. It was an exciting, interesting and beneficial exercise in design team dynamics and strict deadlines, incorporating a multi-disciplinary role in a field of professional competitors.
The design team was Bart O'Doherty, Patrick Clear and Chris Hayes.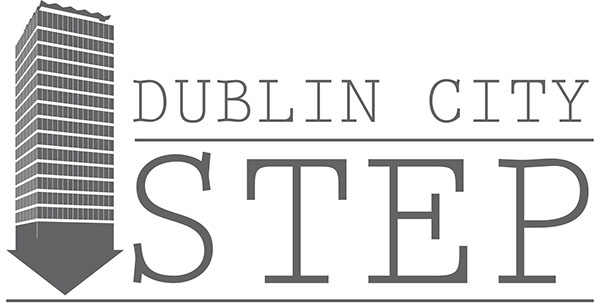 With the aim of harnessing energy to create a public lighting installation along a busy urban thoroughfare, Dublin City was examined across a range of axes, public spaces and connections. O'Connell Bridge was examined as an option that posed many opportunities due to its proximity to existing urban connections (primary arterial and commercial route through city) and due to its location along the River Liffey - a space that offers unique perspectives through the city.
A strategy of involving piezoelectric tiles below the pedestrian thoroughfare of O'Connell Bridge creates an installation that is phyiscally connected to the participant without any noticable effort,  and visually connected to the 63-metre tall Liberty Hall tower along the River Liffey's north quays.
Using a clustered grid of piezoelectric ground panels across the existing bitmac surface, the kinetic energy of the footfall is stored across a greater grid of electricity (or into an isolated battery system), and extracted at a time that requires it: when the equaliser light-show is exhibited at the end of every month.

The pressing action generates only a small amount of energy that can be stored, but through careful calculation it was examined how enough can be generated across the site to generate an autonomous and spectacular light show.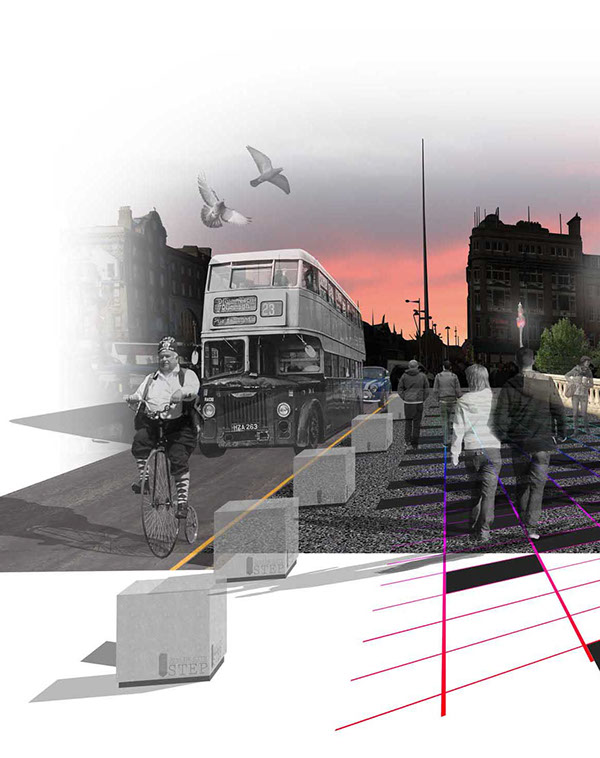 Central to this design approach is the communication of energy data in a functional and beautiful way. 
Seen from Dublin's south quays, O'Connell Bridge
 is transformed into both a transitive space and a public focal point along two of Dublin City's primary urban axes.
Harnessing the spatial urban axis of the River Liffey, the bridge is visually connected to Liberty Hall - one of the city centre's foremost pieces of modernist architecture. A direct corelation is created between the bridge and the building using the energy generated from pedestrian footfall across the bridge's busy eastern corridor.
Due to the busy nature of activity across the bridge at peak times, a proposed widening of its pedestrian corridor begins to extend the busy commercial axis across the River Liffey that connects  O'Connell Street in the north towards Grafton Street in the south. In this regard, the space immediately becomes a strategic part of a wider urban design initiative along the Liffey quays and O'Connell Street - creating a continuity of design and hierarchy for pedestrian movement through the city.
Public lighting and ground re-surfacing works are adapted into the scheme, suggesting a design that does not intervene with passers-by, but rather benefits from the passive nature of those pedestrians who walk along it (
above
).
With the energy generated by those who travel across O'Connell Bridge daily, this project harnesses that kinetic footfall and translates it into a spectacular display of energy on a monthly basis, exhibiting an abstraction of data that has been recorded into the entire Step system. This approach harnesses the Liffey corridor that runs between the bridge and the tower, creating a cohesion and purpose to this revitalised urban axis.