Your client is a celebrity chef who wants to start up a new restaurant in a very difficult market. The type of restaurant is based on 'The Bush Tucker Trial'.
We Brits are pretty conservative. Testament to this is that the French call us 'Le Roast Beef'. This campaign is all about trying something new and being more adventurous with your food.
Name it. Brand it. Campaign it. Make sure it's a success by choosing whatever medium is most effective!
Tri, the new classical, yet contemporary eatery that prides itself on it's unique take on being brave.
Tri - A New Kind of Brave.
The menu options for Tri is what sets it apart from it's 
competitors. There are three food menus that each customer 
is given on arrival; a Brave menu, a Braver menu and a Bravest 
menu. The customer then has the choice of how 'brave' they 
want to be that night.
They have the option to choose all three courses from the 
same menu or experiment a little by trying something brave, 
but something braver for another course. 
Each menu has a different colour for each level of bravery. 
The colours on the front have a spot varnish against the matte 
texture of the paper stock to give it a high quality look and 
feel. Between the front and back layers of the menu is a 
coloured paper stock to add thickness and stability.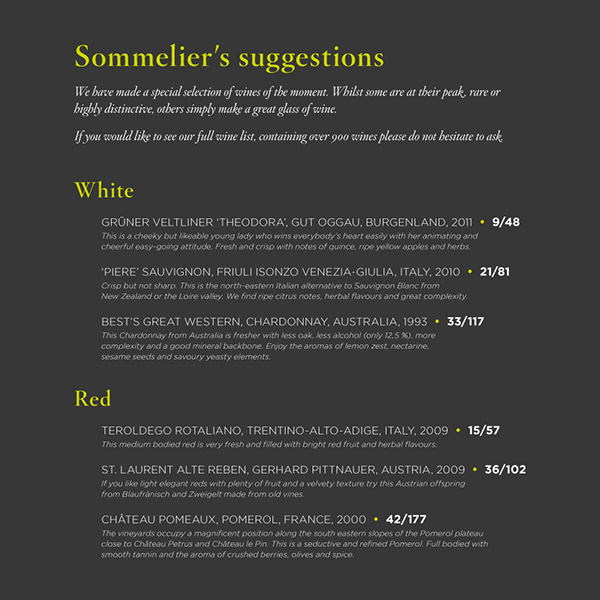 The advertising campaign for Tri Restaurant takes inspiration from the 
humorous aspect of people only hearing a snippet of a conversation 
when in public.
The posters have small snippets of a conversation between 2 or more 
people explaining how their night was at Tri. However they are worded 
in a way that they could easily be mistaken for a conversation about a 
sexual experience the person had.
The restaurant is an upmarket establishment so the campaign would be 
rolled out as large posters in and around main city centres where there 
is a higher footfall. 
The print campaign would also be in high-end magazines, food 
magazines and broadsheets such as The Guardian.