CABARET
"by Masteroff/Kander / Ebb
CAMERI THEATRE TEL-AVIV ISRAEL 2011
Director : Omri Nitzan
Translated : Eli Bijaoui
Musical Director : Yossi Ben Nun
Choreography : Javier de Frutos
Costumes : Orna Smorgonski
Lighting : Avi Yona Bueno (Bambi)
Video editing : Ran Bogin
Video design : Shay Bonder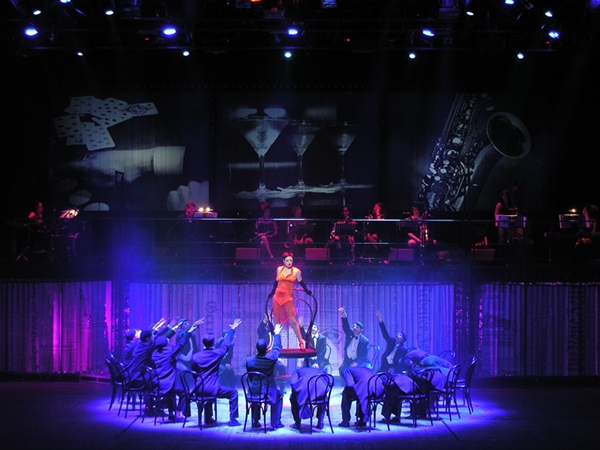 "CABARET" by Masteroff/Kander / Ebb
CAMERI THEATRE TEL-AVIV ISRAEL 2011

Director : Omri Nitzan
Musical Director : Yossi Ben Nun
Choreography : Javier de Frutos
Costumes : Orna Smorgonski
Lighting : Avi Yona Bueno (Bambi)
Video editing : Ran Bogin
Video design : Shay Bonder
Due to its very particular background (the rising Nazi party in Berlin of early 1930's) producing "CABART" in Israel has a special meaning, not only because of the past, but also as a reflection on the present.
The main "hero" in this production was the historical period, and the main location was the town of Berlin.
The set was made of 10 huge walls covered with original 1920's blown-up newspapers. Walls could slide from side to side creating endless shapes and compositions. Actors moved them while walking onto the stage, so the show went smoothly from one location to another.
The walls had doors within which served the various scenes.
The stage was mostly bare: 22 chairs were used for interior scenes, cabaret scenes and for the choreography.
The live orchestra (9 musicians) was sitting on a raised bridge behind the actors. Under the bridge, the various Cabaret numbers were performed. The bridge could travel down-stage towards the audience.
Throughout the whole evening authentic period movies and pictures were projected on the sliding walls and screens behind the orchestra (3 front projectors and 3 rear projectors). Various materials were projected: political events, marches, election assemblies, street fights etc. Movies were shown also during cabaret numbers in order to emphasize the contrast between the political events and the total denial within the cabarets.