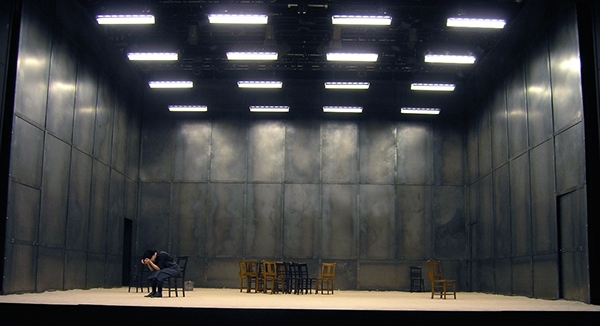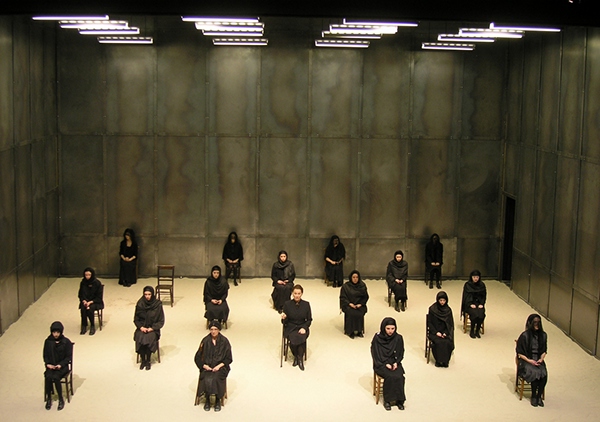 THE HOUSE OF BERNARDA ALBA /Lorca 2008 

The Belgrade Theatre, Coventry, England
Director : Gadi Roll
Set & costumes :Roni Toren
Lighting : Jonathan Samuels
Heavy row metal walls closed a floor covered with sand. Both metal and sand were real-authentic material –no imitation. Same were the real church chairs, almost the only furniture in the show that served the actors. Sand was the nature locked under the cold and strict society conventions. In such a harsh world movement could be done only in straight lines.
Costumes could fit any orthodox harsh society (Muslim –Jewish or Christian) Almost all were in black ,but each woman had its own characteristics .
Lines of fluorescent lamps with cold light were hung above the actors, getting lower every act, oppressing and making the space look more suffocating.       
The young daughter, Adela., the only one that dares to revolt against the social order and break the metal prison, commits a suicide. Normally this last scene takes place outside of stage – in this production the heavy wall raises up slowly ( over a tone) to show the horror – but also to expose the slogan she managed to write on the back wall of the theatre just before hanging herself f: "Stop the wall"