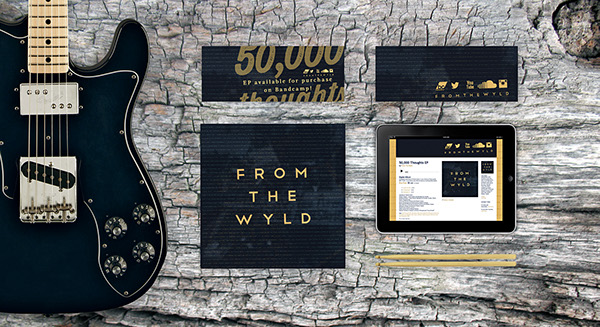 The EP is called 50,000 thoughts which is approximately how many thoughts a person can have in a day, and these thoughts are usually reoccurring the day after.

The cover took some development, actually up until the day before the release. We decided in the beginning after doing some research on existing album covers, that it had to be something clean and simple. We explored a few ideas and eventually got around to the idea of simply using a blank canvas, which we all liked but the idea still felt incomplete.

It's sometimes easy to lose track of what you're really trying to say, so we took a step back and analyzed why the EP is called 50,000 thoughts and how it relates to From the Wyld - meaning how it relates to the band members, and how it relates to the 3 songs on the EP. That's when we made the connection that the 3 songs act as a sum of their 50,000 reoccurring thoughts. From there, we thought about putting the lyrics on the canvas or even making a canvas texture using the lyrics, and that idea really stuck with us.

The album cover has 4 main layers - the band name, the lyrics, the canvas and hidden behind all that is a blurred out image of the band members. Both band members have faced a lot of difficult situations in their lives, so the top 3 layers form a barrier to whats underneath, and in a metaphor kind of way it's saying there's something more hidden behind - something amazing and wonderful, but you have to get through all of the lyrics/thoughts to get to it.