Make going to the dentist as desirable as going to the gym or having your hair done.
Dental diseases or bad teeth can have a considerable impact on self-esteem, but we will do anything to avoid going to the dentist. This mind-set needs changing.
Anything that will get people talking positively about going to the dentist, be it press, posters, twitter, facebook...
Encourage Children to get excited about visiting the dentist by make the experience less formal. Make the experience feel more personal using the idea of rewarding the brave.
To reinvent the dentist visit into an experience by re-designing Dentist reminders to be more encouraging and positive, giving the child a "Make your own Lil Nipper" kit to make and bring along. Finally rewarding the child's bravery with a choice of teeth stickers for their Lil Nipper to complete. 
1.
The Child would receive an envelope addressed to them, by addressing them as apposed to their parents, it makes the child feel important and give them a sense of responsibility. 
2. 
Once opened they will realise that the envelope itself is
an actual creature with a mouth, this acts as a enjoyable surprise and relates to the dental experience of having their mouth checked. 
3.
Pulling out their tongue, the child discovers that its a folded
letter with the pun "Say Raahhh!!" mixing a traditional dentist phrase with my concept. 
4.
Unfolding the letter, the copy is addressed to the child, from the monster known as a "Lil Nipper" asking them to be taken to the dentist when they next go. This gives the child a sense of responsibility and desire to visit the dentist. 
5.
Attached to the letter is a Lil Nipper for the child to build and bring along to the dentist with them. This would act as a method of comfort for them whilst visiting a strange environment. 
6. 
The "Lil Nipper" comes with a sticker set and a simple assembly kit to allow for the child to create them in anyway they choose. This allows the child to form a bond with it and the dentist experience.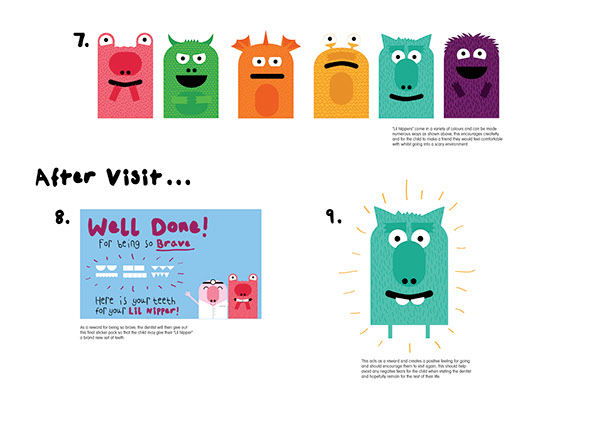 7.
 "Lil Nippers" come in a variety of colours and can be made numerous ways as shown above, this encourages creativity and for the child to make a friend they would feel comfortable with whilst going into a scary environment. 
8.
As a reward for being so brave, the dentist will then give out this final sticker pack so that the child may give their "Lil Nipper" a brand new set of teeth. 
9.
 This acts as a reward and creates a positive feeling for going and should encourage them to visit again, this should help avoid any negative fears for the child when visiting the dentist and hopefully remain for the rest of their life.