Team :
Kevyn Gruchala, Christophe Jourd'hui, Thomas Duhamel, Quentin Huber, Benjamin Baron.
Conducted by Philippe Holland and Stéphane Strouven.
In first we can resume the DS concept : a car which is an

accessible desire object

. 
This notion was introduce by the manifeste
« DS Inside »
. 
This crazy french car create a rupture from the normal automotive vision.
The main design inspiration for the DS range is the french luxury. Hypnotic world highlight notions as tradition, refinement and exclusivity but they stay a dream for the most common people. The main idea is to re-thinking the automotive luxury and to adapt it for a wider public.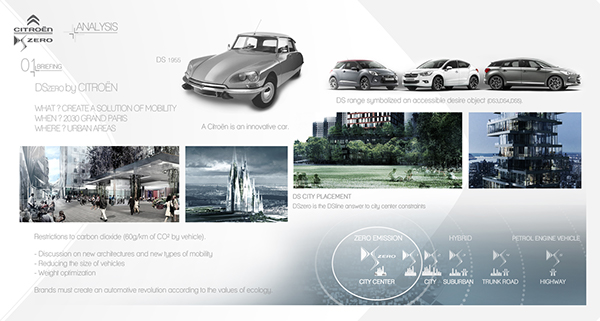 Sketch modeling :
Benjamin Baron.
2 - Affordable premium
( selected by Citroën ).
Sketch modeling :
Benjamin Baron.
Selection exterior design by 

Citroën.
3D modeling and render
by Benjamin Baron.
Citroën DS Zéro
in Paris.