« LINE » Accessibilité
Ce porte-manteau symbolise « l'accessibilité pour tous ». Les différences de hauteur privilégient une utilisation simplifiée par tout adulte, enfant, personne valide ou à mobilité réduite. « LINE » est née d'une envie de convenir au plus grand nombre, petits et grands, sans distinction.
Tout en longueur, on peut y déposer sa veste, son sac, ses clés. Idéalement placé dans une entrée, il fait le lien entre les pièces de vie et l'extérieur.
Composé entièrement de bois, c'est un appel au touché ; il également possible de moduler les différentes accroches par un système d'encoches et de patères.
This coat rack symbolizes " the accessibility for all ". The differences of height privilege a use simplified by every adult, child, valid person or with reduced mobility. "LINE" arose from an envy to suit in the largest number, kids and adults, without distinction.
In length, we can put down jackets, bags, keys there. Ideally placed in an entrance he makes the link between the rooms of living and the outside.
Consisted completely of wood, it is a call to the affected ; it's also possible to modulate the various catchers by a system of notches and coat hooks.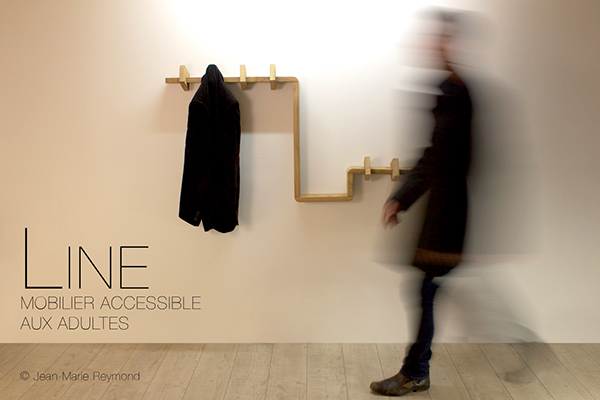 Projet sélectionné pour la Biennale Internationale de Design de Saint-Etienne. Exposition "Sixième sens". Commissariat /Curators Isabelle Gomez et Bernard Laroche (Collectif designers+), Isabelle Vérilhac. Scénographe/Scenography Adrien rovero.
Pour le dictionnaire, le sixième sens est synonyme d'intuition, d'empathie créatrice, qualités que l'on prête parfois aux designers. Il paraît en effet nécessaire de disposer de cette faculté afin de produire des environnements de vie adaptés aux hommes et aux femmes dans leur diversité. L'exposition "Sixième sens" rassemble des réalisations de collectivités, entreprises et designers ayant de prendre en compte des usages, des besoins propres à tous, mais aussi, en même temps, singuliers.
In the dictionnary, sixth sense is definied as a synonym of intuition, or creative empathy; qualities wich we sometimes bestow on designers. The faculty in fact would appear necessary for the production of living environments wich are adapted to men and women in all their deversity. The "Sixième sens" exhibition brings together projects from local authorities, entreprises and designers, wich have in common the aim of talking into account general uses and needs wich are, at the same time, quite singular.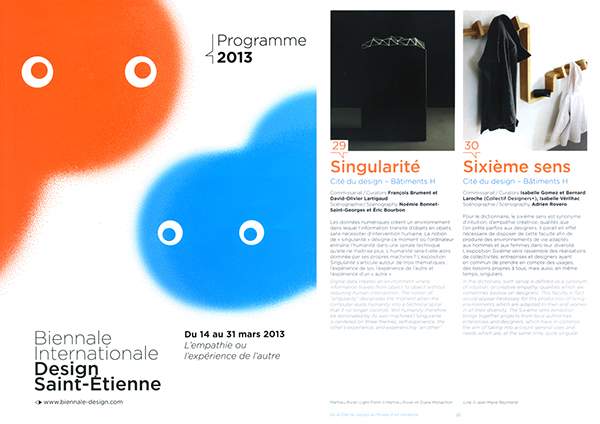 "Amandine" Convivialité
Cette table symbolise le "vivre ensemble". Ses pieds amovibles favorisent l'envie ou le besoin d'un espace de repas plus ou moins grand."Amandine" n' est pas une table mais plusieurs. Ses deux niveaux facilitent la convivialité des personnes à mobilité réduite et valides.

"Amandine" Conviviality
This table represents the "living together". Her feet removable promote envy or need a space larger or smaller meals. "Amandine" is not a table but several. Her two levels facilitate the usability of persons with reduced mobility and valid.
Photos prises lors de l'inauguration de la Biennale Internationale de Design de Saint-Etienne.
(14 au 31 Mars 2013 - Cité du Design - Bâtiment H)